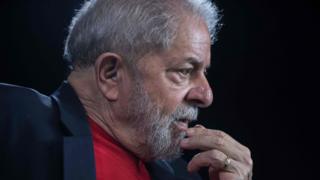 A Brazilian judge has ordered the release of ex-President Luiz Inacio Lula da Silva.
The judge said the left-wing politician must be released from prison in Curitiba while an appeal process is carried out.
Lula had been sentenced to 12 years and one month in prison for corruption and money laundering.
He has always proclaimed his innocence, saying the conviction was politically motivated.
Polls conducted before he was jailed in April suggested that Lula was the frontrunner for the presidential elections, which will be held in October.
He was jailed after a close vote, with six Supreme Court Justice in favour of jailing him and five against.
Lula led the country from January 2003 to December 2010.