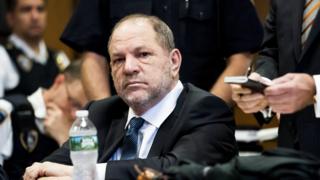 A judge in New York has dismissed one of the six sex assault charges against Hollywood producer Harvey Weinstein.
Prosecutors said actress Lucia Evans had given a witness a different version of the alleged sex assault from the one she had given them.
Ms Evans has told US media that Mr Weinstein forced her to perform oral sex on him in 2004.
Five charges involving alleged sex assaults on two women remain. Mr Weinstein has denied all the charges.
Mr Weinstein's lawyer, Benjamin Brafman, said he would seek to have the remaining charges dismissed as well.
Mr Brafman also said he would investigate what he said had been "perjury" before the grand jury which indicted Mr Weinstein, as well as the conduct of a New York police officer who had worked on the case.
After the hearing, the Manhattan district attorney's office released a letter it had sent to Mr Brafman last month which said that a witness had told prosecutors that she had heard a version of the alleged assault from Ms Evans that was different from the account Ms Evans had originally given prosecutors.
The witness had given the different account to a New York police officer who had failed to tell prosecutors, the letter added.
Ms Evans's lawyer, Carrie Goldberg, said her client's account of events had been accurate.
"I want to be very clear that prosecutors' decision to abandon my client's claims does not invalidate the truth of her claims," Ms Goldberg said.
Mr Weinstein has been accused of sexual misconduct by more than 70 women.
The accusations against him gave rise to the #MeToo movement, which has seen hundreds of women accusing high-profile men in business, government and entertainment of sexual abuse and harassment. He has agreed to wear a GPS tracker and to surrender his passport.
He also faces additional investigations in Los Angeles and London, and by the US federal government.
The 66-year-old, who has been on $1m (£750,000) bail since his arrest in May, has denied having non-consensual sex, his lawyers have previously said.