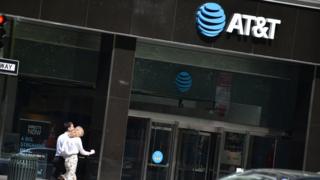 A US District Court judge has cleared the merger of telecoms giant AT&T and media firm Time Warner, in a loss for government regulators.
The US had sued to block the deal, arguing that it would reduce competition in pay TV and lead to higher prices for consumers.
Judge Richard Leon rejected those arguments, approving the deal without conditions.
The ruling is expected to unleash more deal-making.
The lawsuit against AT&T had cast a pall over that activity, as a sign that the Department of Justice, under new Trump appointees, was taking a more hard line stance to mega-deals.
The opinion comes 20 months after AT&T announced its plans to buy Time Warner in a transaction then worth almost $85bn.
The deal is set to unite AT&T's significant wireless, satellite television and internet business with Time Warner's media properties, which include HBO and CNN.