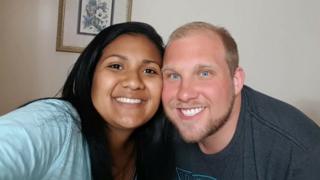 US President Donald Trump says Venezuela has freed an American being held "hostage" and he should arrive back in Washington on Saturday evening.
He did not name the man but Senator Orrin Hatch said the release of Joshua Holt and his Venezuelan partner Thamy – held for two years – had been secured.
US Senator Bob Corker met President Nicolás Maduro in Caracas on Friday.
Mr Maduro was re-elected to a six-year term last week but Washington has not recognised the outcome.
Venezuela had not discussed the nature of the talks with Mr Corker, the chairman of the Senate Foreign Relations Committee, but said they were "good news for the Venezuelan people".
The US has previously accused Venezuela of using Mr Holt as a bargaining chip towards changing Washington's sanctions policy on the country.
Mr Trump said he expected the freed man and his family to be at the White House by 19:00 local time (23:00 GMT).
The president said the people of Utah would be "very happy".
Mr Holt is a former Mormon missionary from Utah who had travelled to Caracas in June 2016 to marry his Venezuelan girlfriend, Thamy Candelo.
She is also a Mormon and the couple intended that Ms Candelo and her children would move with Mr Holt to the US following the marriage.
While waiting for their US visas, Mr Holt and his wife were detained in her family's house in Caracas and accused of hiding weapons.
Senator Hatch, who serves Utah, said he had worked with two presidential administrations and various contacts, including President Maduro, on the release and that he "could not be more honoured to be able to reunite Josh with his sweet, long-suffering family".
Mr Maduro has frequently accused the US of trying to overthrow him and the US has tightened sanctions recently.
Only on Tuesday he expelled the senior US representative in the country, Todd Robinson.
Venezuela is in a five-year economic crisis, suffering from hyperinflation and severe shortages in food and medicine.
Turnout was low in last Sunday's election, boycotted by much of the opposition. Mr Maduro was credited with winning 68% of the vote.