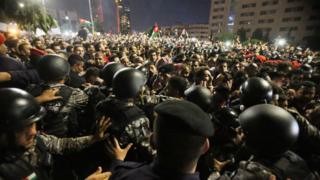 Jordan's King Abdullah has ordered the country's new prime minister to conduct a review of a controversial new tax bill, following days of protests.
Education minister and former World Bank economist Omar al-Razzaz has replaced former Prime Minister Hani Mulki, who resigned on Monday.
The protests in Jordan, a key Western ally, are the biggest in years.
Demonstrators say a new tax bill backed by the International Monetary Fund will hurt the poor and middle class.
The former PM had refused to scrap the proposals, which include higher taxes and more austerity measures.
In the letter appointing Mr Razzaz to form a new government on Tuesday, King Abdullah said that the cabinet "must carry out a comprehensive review of the tax system" to avoid "unjust taxes that do not achieve justice and balance between the incomes of the poor and the rich".
The previous evening, the monarch warned that Jordan risked entering "the unknown" if it failed to find a way out of the current crisis, Jordan's Petra news agency reported.
Protesters gathered outside the prime minister's office for a fifth night after Mr Mulki announced he was stepping down. Police have previously said that dozens of people have been detained and over 40 members of the security forces injured.
What led to the current crisis?
The International Monetary Fund (IMF) – which gave Jordan a loan worth $723m (£540m) in 2016 – has backed the new tax bill, but protesters believe it would further worsen living standards.
Mr Mulki's government had argued it needed the money to fund public services and said the measures would mean higher earners paid more. Mr Mulki also said it was up to parliament to decide whether to passed it or not.
Earlier this year, bread subsidies were scrapped and sales tax increased, and many Jordanians have complained that their salaries have failed to keep up with rising prices.
The country has also struggled to host hundreds of thousands of refugees from the conflict in neighbouring Syria.