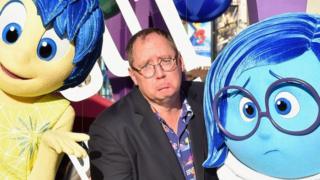 Disney animation head John Lasseter is to leave the studio, months after staff accused him of misconduct.
The Toy Story director has been on leave since November after it emerged he had made people feel uncomfortable with what he termed "unwanted hugs".
Mr Lasseter said he would leave Disney by the end of the year to focus on "new creative challenges".
Allegations of sexual misconduct have prompted the resignations of many public figures over the past year.
A flood of complaints was unleashed after Hollywood producer Harvey Weinstein was accused of harassment and assault by many women.
The allegations against Mr Lasseter surfaced in an investigation by The Hollywood Reporter magazine, which described a "pattern of alleged misconduct detailed by Disney/Pixar insiders".
At the time, Mr Lasseter issued an apology for his "missteps" to those "who has ever been on the receiving end of an unwanted hug", adding that his intent had been "benign".
Other sources alleged that he was known for "grabbing, kissing, making comments". He has always denied wrongdoing.
'Sabbatical'
Announcing his permanent departure on Friday, he said: "The last six months have provided an opportunity to reflect on my life, career and personal priorities.
"I have decided [that] the end of this year is the right time to begin focusing on new creative challenges."
Disney said that following his six-month "sabbatical", Mr Lassiter would retain a "consulting role" at the company until his departure.
Mr Lasseter joined Disney in 2006 when the studio bought Pixar, which he co-founded.
Besides directing the 1995 hit Toy Story, he was the creative force behind A Bug's Life, and Cars, Finding Nemo, Wall-E, Up, and Frozen.
The Weinstein scandal inspired #MeToo and similar social media movements around the world by victims of sexual harassment or abuse.
Earlier this month Mr Weinstein pleaded not guilty to charges of rape and other sexual offenses.