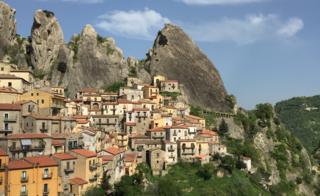 If you venture as far south in Italy as Basilicata you might be excused for wondering why any locals would ever wish to leave.
It has Italy's largest national park, pristine water, mountains, clean air and great fruit and veg.
But leave they do – especially the young. Italy's youth unemployment rate of 31% is the third-highest in the EU, after Greece and Spain. In Basilicata it is 38%.
For more than a century the south – what Italians call the Mezzogiorno – has been identified with poverty, the mafia and an exodus of people looking for work and a new life in the north or beyond.
In Roman times the poet Horace described how he relished the wines of Basilicata – then called Lucania. But he too became part of the ancient south's brain drain and moved to Rome.
Organised crime is less of a problem in Basilicata today than in neighbouring Calabria or Sicily, locals say.
And despite the ageing population and often scarce job opportunities, some show a real determination to stay and prosper in the region they love.
"I often feel a bit crazy when I think I'm one of the few young people to come back to this region, which seems to offer nothing in my line of work," says Marco Tancredi, 31.
He trained as a sociologist and would like to teach, but laments that Basilicata "remains a narrow-minded place, always ruled by the same group of people, who don't care about the community's welfare".
After 10 years elsewhere Marco returned home to the "majestic landscapes and unexplored countryside, which are good for the soul".
His complaint about the power of local bigwigs is echoed by Euro MP Piernicola Pedicini.
He is in the anti-establishment Five Star Movement (M5S), which did especially well in southern Italy in the March election. Now M5S is making history by governing in a coalition with the right-wing populist League.
According to Mr Pedicini, every year about 3,000 young people leave Basilicata never to come back.
Basilicata sells olives, fruit, vegetables, wine and petroleum to the rest of Italy
It was granted €1.8bn (£1.6bn; $2bn) in EU development aid for 2014-2020, but only 5.3% had been spent by January this year – and the EU can reclaim any unspent funds
Malaria and banditry plagued the region in the past
The haemorrhage is such that the region's current 570,000 population could drop to 450,000 by 2050, according to projections. That was roughly the population level in the 1800s.
Basilicata's birth rate – seven births per 1,000 inhabitants – is below the Italian average, which is itself low by European standards.
Read more on similar topics:
"Basilicata needs to defeat the deeply ingrained culture of favouritism, implemented for decades by local politicians and institutions," says Mr Pedicini.
That culture was failing young people by "not valuing merit and skills" and "blocking market-based business start-ups".
To attract young people to the region again, he says, "it's necessary to create work in quality agricultural production, the promotion of traditional products, develop nature tourism, then improve public services".
Isabella Tufaro offers picnics of local produce when she guides tourists around the Pollino National Park and manages rural tourism company Agriturismo La Garavina.
"I stayed working in the family business because I was so in love with this land," she says.
"I think it takes more courage to stay here than to leave. Many of my friends have left, travelling around Italy looking for work."
She too complains of "bad policy" in the region, which "focused almost exclusively on the oil industry".
Basilicata has one of Europe's largest onshore oilfields. National oil company Eni began extraction here in the 1990s, but most of the oil revenue flows to the north.
"The royalties that remain in Basilicata are ridiculously tiny: only 10% of the oil income," says Mr Pedicini.
He says the drilling is causing serious environmental damage, and Five Star wants it to stop, so that Basilicata can focus on developing its traditional strengths: "nature, water, agriculture, history, tourism".
The ancient city of Matera will be a European Capital of Culture next year, hosting events that celebrate southern Italy's heritage.
Enterprising women are among the groups that the EU is trying to help with project funding in Basilicata.
Giusi Villano makes ceramic and paper mache jewellery "inspired by the artisan and gastronomic culture here".
One of her inspirations is the Basilicata crunchy sun-dried pepper (peperone crusco).
She and her colleague Antonella Cutolo trained as architects. They colour their jewellery with natural pigments from local flowers, spices and dyes.
Tucked away in the hills lie two villages – San Paolo Albanese and San Constantino Albanese – which are home to ethnic Albanians. They exemplify the region's rich tapestry of cultures and influences.
But the villages are struggling. San Paolo's population has halved in 10 years, to 270 inhabitants, 70% of whom are over 60. Of the 650 people in San Constantino, only 92 are aged 25 or younger.
Valerio Saga, 27, left another tiny Basilicata village because he saw it as the only way to fulfil his passion for the theatre.
He now works in the northern city of Bergamo, but dreams of returning.
"I miss the simplicity, tranquillity. I miss walking along and smelling through the windows the aromas of fresh bread and the juices of local dishes. One day I hope to go back there for good."
The BBC's Laurence Peter contributed to this article.