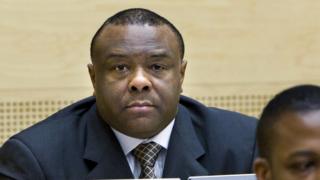 Judges at the International Criminal Court (ICC) have ordered the release of former Democratic Republic of Congo rebel leader and Vice-President Jean-Pierre Bemba.
Last week, appeal judges overturned his 2016 conviction on charges of war crimes and crimes against humanity.
Bemba is yet to be sentenced for the separate charge of bribing witnesses.
Judges ruled that he could join his family in Belgium, while he awaits sentencing in that case.
He had already served more than 80% of the maximum possible sentence of five years for bribing witnesses, so it would be "disproportionate" to keep him in custody, judges said.
Bemba was arrested in Belgium in 2008 after the ICC issued an international arrest warrant for him.
He was accused of failing to stop his rebel forces from killing and raping people in neighbouring Central African Republic in 2002 and 2003.
Bemba was convicted in 2016, and sentenced to 18 years in prison.
The trial was the first before the ICC to focus on sexual violence as a weapon of war.
Bemba waged a long legal battle to overturn his conviction and last week appeal judges finally ruled in his favour.
They said he could not be held criminally responsible for crimes committed by his troops.
Human rights group Amnesty International said his acquittal was a "huge blow" for the victims of a "horrifying campaign of rape and sexual violence".
ICC prosecutor Fatou Bensouda described the ruling as "regrettable and troubling".
The judges ordered what they called Bemba's "interim release" under specific conditions, including barring him from making public statements on the case, changing his address without prior notice, and contacting witnesses.
He is due to be sentenced on 4 July after being convicted in a separate case of corruptly influencing witnesses and falsifying evidence during his war crimes trial.
Bemba's release could have an impact on politics in DR Congo, where he maintains a loyal support base, reports the BBC's Anna Holligan from The Hague.
One member of his party told our correspondent that Mr Bemba now hopes to run for president in elections scheduled for December.
---
Who is Jean-Pierre Bemba?
A well-connected businessman and the son of prominent Congolese businessman Bemba Saolona
1998: Helped by Uganda to form MLC rebel group in Democratic Republic of Congo
2003: Becomes vice-president under peace deal
2006: Loses run-off election to President Joseph Kabila but gets most votes in western DR Congo, including Kinshasa
2007: Flees to Belgium after clashes in Kinshasa
2008: Arrested in Brussels and handed over to ICC
2010: Trial begins
2016: Found guilty of war crimes and crimes against humanity
2018: Conviction overturned on appeal
---