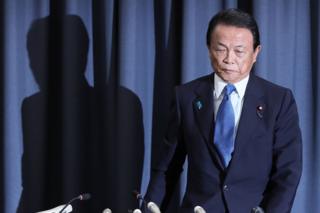 Japan's finance minister has said he will return a full year's salary after his ministry was found to have tampered with public documents.
An inquiry found that references to Prime Minister Shinzo Abe and his wife were removed from papers relating to a controversial sale of state land.
Taro Aso accepted that the scandal "hurt" public confidence in the ministry and the government.
But he said that he would not step down over the incident.
Mr Abe has been accused of cronyism since it emerged that a school operator with links to his wife bought state land at a highly discounted rate. He has denied any involvement in the alleged cover-up.
At a press conference on Monday, Mr Aso – who also serves as deputy prime minister – said that "the falsification of government documents is unacceptable and extremely regrettable" and said he would return his salary of 30 million yen (£205,000, $274,000).
One senior official has already resigned over the scandal, while 20 others have been punished, according to Mr Aso.
How did the scandal begin?
In 2016, a controversial nationalistic organisation called Moritomo Gakuen – whose founder was a known supporter of Mr Abe – bought a plot of land from the transport ministry to build a school.
It later emerged that the purchase had been made for around a sixth of the market value and that the prime minister's wife, Akie Abe, was listed as the school's honorary president.
Mrs Abe later resigned from the post, amid allegations that she had lobbied the government to lower the price of the land; claims denied by all parties.
The scandal returned to the public eye in March, when the removal of references to the prime minister, his wife and Finance Minister Taro Aso, in the ministry documents was uncovered, leading to calls for resignations.
The finance minister blamed junior staffers for the incident, while Mr Abe told parliament: "I did not direct that the documents be altered. In fact, I didn't even know that they existed at all, so how could I have done that?"
The scandal has affected the prime minister's popularity, with one poll showing voter support for the government at its lowest level since Mr Abe took power in 2012.