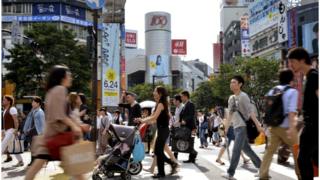 Japan's economy shrank in the first quarter of 2018 for the first time in two years, ending the longest stretch of economic growth since the 1980s.
The world's third largest economy contracted at an annualised rate of 0.6%, official data showed.
Expectations were for an annualised contraction of 0.2%.
Private consumption and capital expenditure slowed during the January to March quarter, which analysts said dragged down the economy.
Private consumption accounts for about 60% of Japan's economic activity.
Annualised growth rates represent the growth if the quarter-on-previous-quarter rate of change were maintained for a full year.
On a quarter-on-quarter basis, the economy shrank 0.2% compared with growth of 0.1% at the end of 2017.
Analysts said they expected to see a recovery in the current quarter of 2018 and that bad weather together with a global slowdown in demand for electronics had also led to the decline in the first quarter.