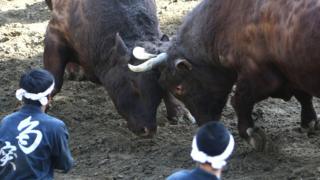 A woman has been allowed to enter a Japanese traditional bullfighting ring for the first time after a ban was lifted in a bid to modernise the sport.
Yuki Araki accompanied her animal on the opening day of the season in Hokkaido island's Yamakoshi district.
Women had previously been banned once the ring was deemed to have been purified with salt and rice wine.
Japanese bullfighting, known as "togyu", differs from the Spanish version in that no bull is killed.
Instead two of the animals lock horns and attempt to push each other back. The bulls have coaches to encourage them and the fight is over if one gores the other.
There is no bullfighter in the centuries-old sport.
Bullfighting officials said the move was necessary for the sport to appeal to the #MeToo generation.
In recent months Japanese women have spoken out about sexual harassment. Two top officials subsequently resigned over sex scandals.
"Equality for men and women is a trend of the times," said Katsushi Seki, an official with the Yamakoshi bullfight organisation.
"By opening the ring to women, we hope this traditional bullfighting will continue far into the future," he told AFP.
The move to lift the ban on women also follows an incident in a sumo wrestling ring last month where women performing first aid on a man who had collapsed were ordered by a referee to leave because women were banned from the space.
The women ran into the ring when the mayor of the central city of Maizuru, Ryozo Tatami, became ill while giving a speech.
Traditionally seen as "impure", women are not allowed into sumo rings, which are regarded as sacred.
The head of Japan's sumo association later apologised to the women.