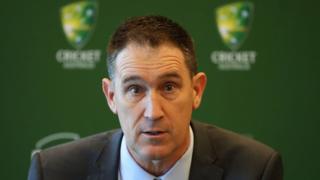 Cricket Australia chief executive James Sutherland has announced that he will step down.
Mr Sutherland said the "time is right" for him to depart his position, which he has held for 17 years.
He denied that his resignation had been hastened by a ball-tampering scandal that has rocked Australia and prompted the suspensions of three players, including former captain Steve Smith.
Mr Sutherland will stay on for up to 12 months until his replacement is found.
"I feel very comfortable that this is the right time for me and a good time for the game," he said on Wednesday.
"It is something that I have been thinking about for a long time… We have had some big, big things to deal with over the course of the last 12 months."
He named a lucrative television rights deal and negotiations over pay for male and female cricketers as key recent achievements.
Mr Sutherland had also faced scrutiny for his response to the ball-tampering incident at a Test match in South Africa in March.
Smith, former vice-captain David Warner and batsman Cameron Bancroft are serving suspensions after admitting to the scandal, a ploy to give the team's bowlers an advantage.
Coach Darren Lehmann stood down after the incident, despite being cleared of wrongdoing.
Mr Sutherland, a former accountant and first-class player, first joined Cricket Australia in 1998.