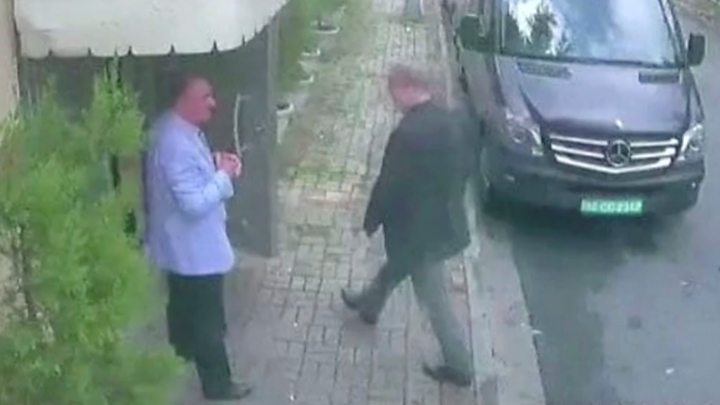 Saudi Arabia has called accusations it ordered the killing of journalist Jamal Khashoggi inside its Istanbul consulate "lies and baseless allegations".
Interior Minister Prince Abdulaziz bin Saud bin Naif bin Abdulaziz's denial comes 11 days after Mr Khashoggi was last seen entering the consulate.
Turkish sources allege he was then killed by a team of Saudi agents.
A Turkish security source told the BBC that officials have audio and video evidence proving the killing.
Saudi Arabia has maintained the journalist, a critic of the government, left the building shortly after arriving on 2 October.
The interior minister said on Saturday the kingdom was keen to uncover "the whole truth", according to the official Saudi Press Agency, stressing reports "about orders to kill" are "baseless".
Mr Khashoggi's disappearance and reported death have prompted international outrage.
UN Secretary General Antonio Gutteres told the the BBC's economics editor Kamal Ahmed he was "worried" by Mr Khashoggi's disappearance, especially as incidents like this were becoming the "apparent new normal".
"It's absolutely essential to make sure that the international community says clearly that this is not something that can happen," he said.
Mr Gutteres added it was important to establish "exactly what has happened".
Meanwhile, US President Donald Trump, who has sought to build good relations with Saudi Arabia, also pledged to uncover the truth.
Mr Trump told reporters on Friday that he would call Saudi Arabia's King Salman to discuss "the terrible situation in Turkey", news agency AP reports.
However, his Treasury Secretary Steven Mnuchin says he is still planning to attend a Saudi investment conference later this month, despite a number of other top business leaders pulling out.
Mr Mnuchin's trip is also against the recommendations of the House of Representatives' foreign affairs committee, which wrote to Mr Trump urging him to reconsider the visit.
UK tycoon Sir Richard Branson has also halted talks over $1bn Saudi investment in Virgin space firms.
What do Turkey's recordings reveal?
The latest reports suggest an assault and a struggle took place in the consulate.
A Turkish security source has confirmed to BBC Arabic the existence of an audio and a video recording. What is not clear is if anyone other than Turkish officials has seen or heard them.
One source is cited by the Washington Post as saying men can be heard beating Mr Khashoggi; it adds that the recordings show he was killed and dismembered.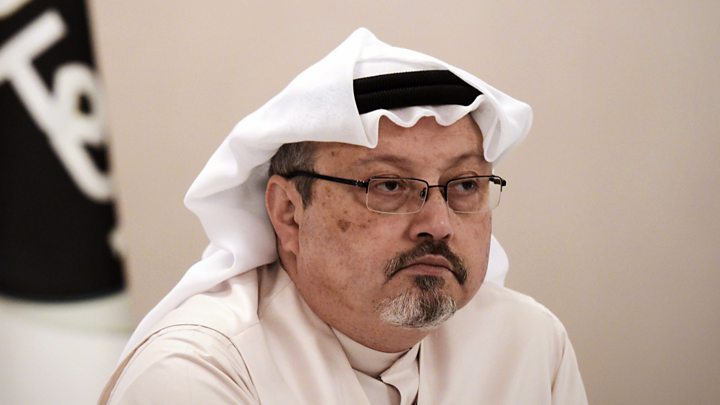 "You can hear his voice and the voices of the men speaking Arabic," a separate source told the Post, which employed Mr Khashoggi as a contributing columnist. "You can hear how he was interrogated, tortured and then murdered."
Turkish media reports say officials are investigating sound recordings made by Mr Khashoggi's smart-watch. The BBC has been unable to independently verify this claim.
Turkish TV has already broadcast CCTV footage of the moment Mr Khashoggi walked into the consulate for an appointment at which he was due to receive papers for his forthcoming marriage to Turkish fiancée Hatice Cengiz.
Separately, a video has emerged of men described as Saudi intelligence officers entering and leaving Turkey.
A 15-strong team has been identified by Turkish media who are described as involved in Mr Khashoggi's disappearance. The BBC has been told that one was Maher Mutreb, an intelligence colonel based in London, and another was thought to be a forensics specialist.
What happens now?
Turkey's official line is that Mr Khashoggi is missing but that it knows "for sure" he has been killed.
However, the government has agreed to a joint investigation with the Saudis, and a Saudi delegation arrived in Turkey on Friday to take part in talks expected over the weekend.
Their arrival came a day after a senior Saudi royal figure, Prince Khaled al-Faisal, was said to have briefly visited Turkey amid signs that the Saudi monarchy was seeking an urgent solution to the diplomatic crisis between the two countries.
Mr Khashoggi's disappearance threatens the reputation of the new Saudi Crown Prince, Mohamed bin Salman, and his country's relationships across the world, the BBC's Turkey correspondent Mark Lowen reports.