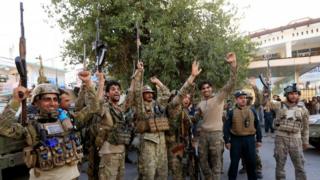 At least 15 people have died in a bomb and gun attack in the eastern Afghan city of Jalalabad, an official says.
Gunmen stormed a government building after a suicide bomber blew himself up at the entrance gate.
Afghan security forces had ended the assault and killed two of the gunmen but much of the building was destroyed, a government spokesman said.
No militant group has yet said it is behind the attack, although the Taliban issued a statement denying involvement.
The Islamic State (IS) group has claimed increasing numbers of attacks on civilian targets, amid calls for peace talks between the government and the Taliban.
Jalalabad and its surrounding area, which is near the border with Pakistan, has borne the brunt of IS attacks.
Other recent attacks in Jalalabad:
Provincial government spokesman Attaullah Khogyani reported that at least 15 people had been killed and 15 wounded.
He said the attack on a building used by the department of refugee affairs had happened during a meeting between officials and non-government organisations.
The head of the department and several other people had been taken to safety, he added.
Also on Tuesday, 11 people were killed in the western province of Farah when a bus was hit by a roadside bomb in what was believed to be a Taliban attack, officials said.
And 22 people were abducted by unknown assailants from vehicles on a highway linking Kabul and Gardez, a city in the eastern province of Paktia.