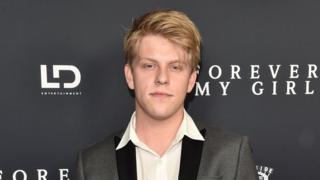 Actor and musician Jackson Odell, best known for his role in US TV series The Goldbergs, has died at the age of 20.
He was found unresponsive at a sober living facility in California on Friday, according to the Los Angeles County coroner.
The cause of his death is being investigated.
Odell starred as Ari Caldwell in the ABC sitcom The Goldbergs and appeared in guest roles on Modern Family and Arrested Development.
He was also a songwriter and contributed to the soundtrack for the romantic drama Forever My Girl, which was released earlier this year.
In a statement on his Twitter account, his family described him as "a shining light and a brilliant, loving and talented soul".
"He had so much more to share. Our family will always carry that truth forward. Our wish is that the rest of the world who knew and loved him does as well," the post read.
Fellow The Goldbergs actor Charlie DePew paid tribute to "a true talent".
Actress Ariel Winter, who plays Alex Dunphy in Modern Family, said: "Very hard for me to hear about anyone passing away, but someone so young really saddens me."
Sober living facilities serve as interim housing, between rehab and general society, for those suffering from substance abuse.