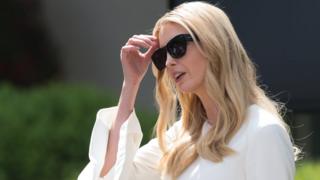 Internet users are saying Ivanka Trump would be wise to double check online quotes after she shared an apparently fake "Chinese proverb".
The daughter of the US president tweeted on Monday: "'Those who say it can not be done, should not interrupt those doing it.' – Chinese Proverb".
But digital sleuths in the US and China said there is no evidence such a pearl of wisdom originated in China.
The alleged misattribution has provoked the proverbial online backlash.
The tweet was posted hours before her father, President Donald Trump, held historic talks with the leader of North Korea, Kim Jong-un.
On social media site Weibo, some quoted similar sayings that are popular in China, such as: " Don't give advice while watching others playing a chess game."
"If you haven't tasted the grapes, don't say they're sour," one person responded.
"Did you get that from a fortune cookie?" another netizen asked.
The first daughter and White House adviser's post was still pinned to the top of her Twitter account on Tuesday.
Ms Trump has frequently touted her connection to China and its culture.
She hired a Chinese-speaking nanny to tutor her daughter.
This is not Ms Trump's first apparent misattribution to Chinese lore.
In 2013 she posted on Twitter: "Choose a job you love, and you will never have to work a day in your life."
She incorrectly identified that saying as one by Chinese philosopher Confucius.
Ms Trump, 36, also wrongly attributed a quote to Albert Einstein in July last year, writing: "If the facts don't fit the theory, change the facts."
Larry Herzberg, a professor of Chinese at Calvin College, told the New York Times the tweet is "yet one more example of Americans ascribing a quote to the Chinese, often to Confucius, when they don't really know the origin of the saying".
"It sounds more legitimate and credible to pronounce a quote coming from the ancient civilisation of China."
Ms Trump's "Chinese proverb" has also been attributed to Irish playwright George Bernard Shaw, according to the website QuoteInvestigator.com.
Taiwanese-American comedian Jenny Yang was clearly enjoying the online fallout.
You may also be interested in: