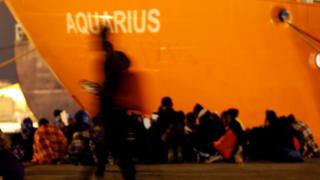 Italy's new interior minister has refused permission for a rescue vessel to drop off more than 600 migrants picked up off Libya's coast.
Matteo Salvini, the leader of the far-right League party, said Malta should take in the ship, the Aquarius, but his request was rejected.
The League had promised voters during recent elections that it would take a tough stance on immigration.
Italy is the main entry for migrants crossing from North Africa to Europe.
Mr Salvini said on Sunday Italy was saying "no to human trafficking, no to the business of illegal immigration".
He also complained, on Facebook that: "Malta takes in nobody. France pushes people back at the border, Spain defends its frontier with weapons."
The migrant rescue charity SOS Méditerranée, which runs the Aquarius, said 629 migrants had been picked up in six different rescue operations off Libya's coast on Sunday.
The charity's spokesperson, Mathilde Auvillain, said the ship had received orders to head north and was now awaiting "definitive instructions".
"Our objective is the disembarkation in a port of safety of the 629 people now on board the Aquarius – some we rescued yesterday night in difficult conditions," she was quoted by Reuters as saying.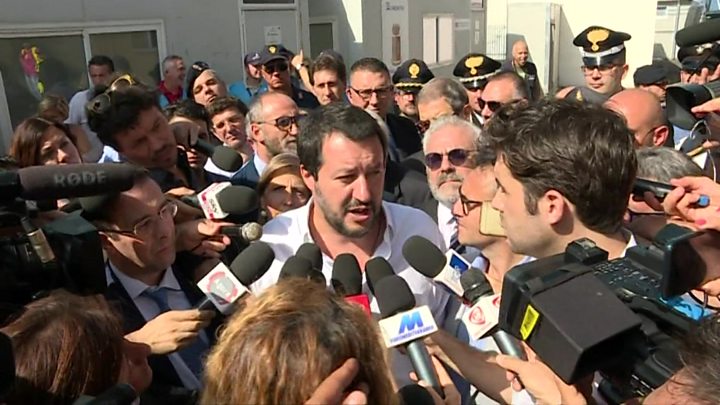 Last week, Mr Salvini said Rome should increase its deportations of migrants.
The hardline leader said the Italian government would open more deportation centres, make agreements with origin countries.
The Italian government also wants a relocation of asylum-seekers EU-wide – a scheme already rejected by some member states.
Mr Salvini says he is considering action against organisations rescuing migrants at sea. He has previously accused them of being in cahoots with people-smugglers.
The government's critics say its plan to repatriate migrants is unworkable and risks fomenting racism and politicising a humanitarian issue.
A controversial deal between Italy's former government and authorities in Libya has led to a drop in overall arrivals since last summer.
However, Italian officials say 13,500 migrants have been registered so far this year.