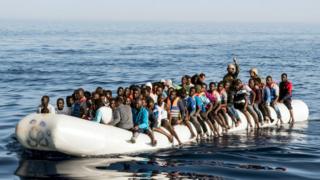 Italy says it will not sign up to an EU plan for tackling illegal migration to Europe if it does not make help for Italy a priority.
The leaders of 10 member states plan to meet in Brussels on Sunday in a push to tighten border checks and stem the flow of non-EU migrants inside the bloc.
Italy is now the main arrival point for boatloads of migrants – mostly Africans fleeing chaos and violence in Libya.
"We need help now," Italy's right-wing Interior Minister Matteo Salvini said.
"If we are going to Brussels to receive the HOMEWORK already prepared by the French and Germans… the prime minister would do better to save the cost of the trip," he tweeted.
Sunday's talks come amid serious divisions in the EU over migration and asylum, overshadowing an EU summit to be held on 28-29 June.
Why the tough words from Italy?
Mr Salvini, a Eurosceptic, heads the anti-immigration League party, which accuses the EU of leaving Italy to struggle with an unfair burden of asylum claims.
Italy's new coalition government wants to deport half a million undocumented migrants, many of whom are housed in squalid reception centres.
Speaking on Italy's Rai national TV, Mr Salvini said it was "unacceptable" to be told "we will help you in one or two years, while you keep those who arrive and we will send you others".
Italy's Prime Minister Giuseppe Conte has said measures to curb the flow of migrants to Italy from North Africa are the priority – not transfers of migrants from one EU country to another.
Among them are refugees from the war in Syria or other conflicts, who generally have a right to asylum.
Where are the tensions in the EU?
Last week Italy's refusal to let in 630 migrants aboard the rescue ship Aquarius triggered a diplomatic row with France.
Austria's right-wing Chancellor Sebastian Kurz is meeting the leaders of four neighbouring EU states who share a tough stance on the migration issue.
The Visegrad Group – Poland, the Czech Republic, Slovakia and Hungary – refuse to take in any refugees from Italy or Greece.
Mr Kurz is also an ally of Bavarian CSU leader Horst Seehofer, whose criticism of German Chancellor Angela Merkel on the issue threatens Germany's ruling coalition. Under her "open door" policy more than a million asylum seekers entered Germany in 2015-2016.
A leaked draft of the declaration for Sunday's Brussels summit sets out measures to "immediately reduce secondary movements" of migrants in the EU. It notes that "there is no right to freely choose the member state where to apply for asylum".
The EU's controversial Dublin Regulation states that an asylum seeker's claim should usually be handled by the country where he/she first arrives.
The regulation – currently under review – enables one EU country to deport an asylum seeker to another. Italy and Greece object to that policy, saying they are shouldering an unfair burden.