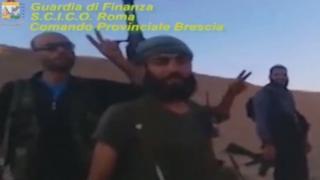 A network suspected of financing al-Qaeda-linked jihadists in Syria has been dismantled, Italian police say.
Fourteen people were arrested on the island of Sardinia and in parts of northern Italy.
Police said 10 of those detained were suspected of money laundering and of illegally distributing money from across Europe to the jihadists.
Another four are described as militants in Sardinia suspected of being part of a support cell for al-Nusra Front.
Al-Nusra Front was the official affiliate of al-Qaeda in Syria. It later said it had broken off formal ties with al-Qaeda and merged with other jihadist groups to form the Hayat Tahrir al-Sham alliance.
The operation by anti-mafia police and anti-terror officials targeted two separate cells, in Sardinia and the northern city of Brescia, and involved searches in 20 properties. Eleven of those arrested were of Syrian origin and three were from Morocco. Among other suspects was the Italian wife of one of the detainees who is being investigated for acting as a courier.
Police said money was raised in Muslim communities across Europe and moved around by an informal transfer system known as hawala, creating a "secure channel for money laundering" that did not involve traditional banks.
Money was collected in Italy, Sweden, Hungary and Turkey, largely from Syrian nationals, and moved to Austria, Germany, Holland and Denmark, as well as the Middle East.
Transfers involved hundreds of thousands of euros and some were bigger than €2m (£1.7m; $2.3m) officials said.
The money would then go to al-Nusra Front or jihadists affiliated to the Salafist group.