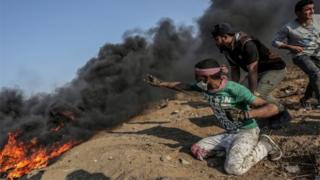 The UN human rights chief says Israel used "wholly disproportionate" force against Palestinian border protests which have left over 100 people dead.
Zeid Ra'ad al-Hussein told a meeting in Geneva that Gazans were effectively "caged in a toxic slum" and Gaza's occupation by Israel had to end.
Israel's ambassador said Gaza's militant Islamist rulers had deliberately put people in harm's way.
The UN meeting is considering calling for an independent investigation.
Some 60 Palestinians were killed by Israeli forces on Monday on the seventh consecutive week of border protests, largely orchestrated by Hamas, which politically controls the Gaza Strip.
It was the deadliest day in Gaza since a 2014 war between Israel and militants there.
The protests had been dubbed the Great March of Return, in support of the right of Palestinian refugees to return to land they or their ancestors fled from or were forced to leave in the war which followed Israel's founding in 1948.
The Israeli government, which has long ruled out a mass return of Palestinians, said terrorists wanted to use the protests as cover to cross into its territory and carry out attacks.