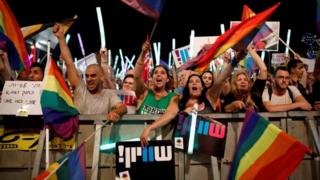 Tens of thousands of Israeli protesters have rallied in Tel Aviv against a law denying surrogacy to gay couples and single fathers.
Demonstrators held their gathering in the central Rabin Square, and at one point briefly blocked a major motorway. At least one person was arrested.
Israel's parliament on Wednesday allowed surrogacy for single women and women unable to bear children.
Previously, only heterosexual married couples were granted the same rights.
The legislation also envisaged state funding for surrogacy.
"We came here today (Sunday) to say to the government 'No more'," demonstrator Oz Dani in Rabin Square was quoted as saying by Reuters.
"We want equality and we want equal rights for everyone."
Similar rallies were also held in several other cities, including Jerusalem.
Many protesters said gay couples wanting to have children were being forced to seek surrogate mothers abroad and pay large sums of money.
A number of Israeli companies said they were ready to make financial contributions to help such couples.
Prime Minister Benjamin Netanyahu had previously supported the extension of surrogacy rights to gay couples and single men.
But he voted against this last week, saying that otherwise the entire bill would have been blocked in parliament.