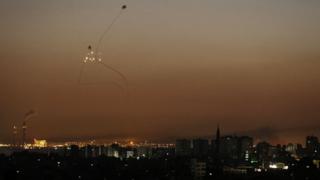 Israeli jets have hit militant positions in Gaza after Palestinians fired rockets and mortars into Israeli territory, the country's military said.
The military said 25 targets linked to the militant Hamas movement were hit, in response to a barrage of about 30 rockets and mortar shells.
Residents reportedly said two Hamas security men were slightly injured. No Israeli casualties were reported.
The strikes follow weeks of confrontation over the Gaza border.
More than 100 Palestinians have been killed by Israeli snipers amid protests during which thousands of Palestinians massed on the border.
They were demonstrating in support of what Palestinians say is the right of refugees and their descendants to return to their ancestral homes in what is now Israel.
The UN and human rights officials have accused Israel of using disproportionate force, but Israel says soldiers have only opened fire on people trying to break through the border.
The Israel Defense Forces (IDF) said that Hamas targets, including a number of bases, were struck in three rounds of strikes overnight.
Air raid sirens and phone warning systems sounded before dawn in Israel.
The military says the country's Iron Dome anti-missile shield intercepted seven rockets. Kites carrying containers of burning fuel were also sent into Israel, the military said.
Gaza, an impoverished enclave of some two million residents, has long been blockaded by Israel and Egypt.
The blockade was tightened after Hamas, an Islamist group that won Palestinian elections in 2006, ousted its secular Fatah rivals from Gaza a year later.