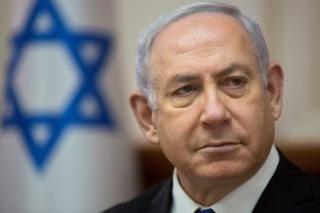 Israeli Prime Minister Benjamin Netanyahu has revealed what he says are "secret nuclear files" proving Iran is covertly pursuing nuclear weapons.
He said 55,000 pages of material obtained by Israel showed Iran had deceived the world since signing a deal in 2015 to curb its nuclear programme.
It agreed to the deal in return for the lifting of sanctions.
Tweeting earlier, Iranian Foreign Minister Javad Zarif appeared to accuse Mr Netanyahu of "fooling people".
US President Donald Trump has long threatened to scrap the deal, which was reached under his predecessor, Barack Obama.
European powers have said they are committed to upholding the accord.
Speaking in English from Israel's defence ministry in Tel Aviv, Mr Netanyahu showed off what he said were "exact copies" of secret documents obtained by Israeli intelligence in Tehran.
"These files conclusively prove that Iran was brazenly lying when it said it never had a nuclear weapons programme," he said.
How was the 2015 deal meant to work?
The agreement signed between Iran and six world powers lifted crippling economic sanctions in return for curbs on Tehran's nuclear programme.
There had been fears that Iran would use the programme to create a nuclear weapon.
Under the deal, officially known as the Joint Comprehensive Plan of Action (JCPOA), Iran is committed to slashing the number of its centrifuges, which are machines used to enrich uranium.
It is also meant to cut its stockpile of enriched uranium drastically and not enrich remaining uranium to the level needed to produce nuclear weapons.
The number of centrifuges installed at Iran's Natanz and Fordo suites was cut drastically soon after the deal while tonnes of low-enriched uranium were shipped to Russia.
Furthermore, monitors from the International Atomic Energy Agency (IAEA) have been able to carry out snap inspections at Iranian sites.
How dangerous is the enmity between Israel and Iran?
Tension between the long-standing enemies has grown steadily since Iran built up its military presence in Syria, Israel's north-eastern neighbour.
Iran has also been accused of supplying weaponry to Lebanese Shia Muslim militant group Hezbollah, an enemy of Israel, and also smuggling arms to Palestinian militants.
Mr Netanyahu vowed last year to stop Iran "establishing itself militarily in Syria".
On Sunday night, a wave of unclaimed air strikes on targets in Syria reportedly killed a number of Iranians.
Both Israel and Western nations have bombed government-controlled sites in the country in recent months.