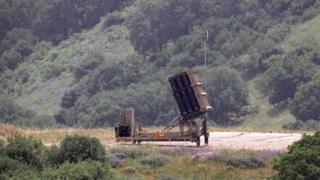 The Israeli military says it has detected "irregular Iranian activity" in Syria and has told authorities in the occupied Golan Heights to open and prepare bomb shelters.
The military said its troops were "on high alert for an attack".
"Any aggression against Israel will be met with a severe response," spokesman Jonathan Conricus said.
The alert came as President Trump announced the US was pulling out of a nuclear agreement with Iran.
The Golan Heights are Syrian territory under Israeli military control.
The Israeli Prime Minister Benjamin Netanyahu said he "fully supports" Mr Trump's withdrawal.
"The deal didn't reduce Iran's aggression, it dramatically increased it and we see this across the entire Middle East," he said.
In a statement, the Israeli military said defence systems had been deployed.
Israeli media said it was the first time there had been an order to prepare shelters in the occupied area since the Syrian civil war began, Reuters reported.
Iran has vowed to avenge recent air strikes on its military facilities in Syria that were attributed to Israel.
Israel has neither confirmed nor denied carrying out the strikes, but it has said it will stop what it considers Iran's military "entrenchment" in Syria.
Israel is also thought to have bombed arms shipments intended for Lebanon's Hezbollah movement – supported by Iran – several times since the Syrian conflict began.
Iran has backed President Assad throughout Syria's seven-year civil war, deploying hundreds of military advisers and thousands of militiamen to the country.
Israel seized the Golan Heights from Syria in the closing stages of the 1967 Six-Day War and unilaterally annexed it in 1981. The move is not recognised internationally.