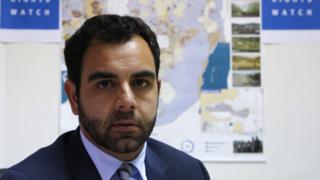 Israel has ordered the senior representative of Human Rights Watch in the country to leave within 14 days.
The interior ministry said it had terminated the residency permit of Omar Shakir, who is a US citizen, because he had supported a boycott of Israel.
It based the decision on a government dossier covering his activities over the past decade, almost all of them predating his employment by HRW.
HRW insists that neither it nor Mr Shakir promote boycotts of Israel.
"This is not about Shakir, but rather about muzzling Human Rights Watch and shutting down criticism of Israel's rights record," said Iain Levine, a deputy executive director of the New York-based organisation.
"Compiling dossiers on and deporting human rights defenders is a page out of the Russian or Egyptian security services' playbook."
Israel initially refused last year to grant HRW a permit to employ Mr Shakir as a foreign expert. It later granted him a one-year visa following criticism from the US.
In a letter dated Monday, the interior ministry described HRW's Israel and Palestine director as an "activist" for the Boycott, Divestment and Sanctions (BDS) movement, which campaigns for a complete boycott of Israel over its policies towards the Palestinians.
Israel says that BDS opposes the country's very existence and is motivated by anti-Semitism. Last May, it passed a law refusing entry to people with links to BDS.
"It is inconceivable that a boycott activist can receive a permit to remain in Israel so that he can act in every possible way against the state. I will use all means to expel such people from the country," Interior Minister Aryeh Deri said on Tuesday.
HRW rejected the Israeli government's portrayal of Mr Shakir and said it had retained a lawyer to challenge the decision before an Israeli court.
It the first time since HRW began operations in Israel and the Palestinian Territories 30 years ago that one of its employees has been ordered to leave.
Other human rights groups also criticised the expulsion of Mr Shakir.
Amnesty International called it "yet another worrying sign of the country's growing intolerance of critical voices".
Israeli organisation B'Tselem, meanwhile, said it was a "sign of the times".