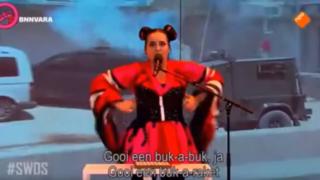 The Israeli embassy in the Netherlands has lodged a complaint over a parody of Israel's Eurovision winner that criticised Israeli policies and prompted accusations of anti-Semitism.
The skit on Netta Barzilai's Toy was broadcast on Saturday during a primetime satirical show.
The parody drew on violence on the Gaza border, where 60 Palestinians were killed by Israeli forces.
The show's producers insist the song did not target the Jewish community.
The song, performed on Sanne Wallis de Vries's show by Martine Sandifort, began with an imitation of Netta's trademark chicken noises but then used a backdrop of footage involving Palestinian protests against Israeli forces.
Sandifort sang of Israel building walls that even President Donald Trump could only dream of, but then suggested it was cashing in on the opening of the new US embassy in Jerusalem.
The chicken-clucking of the original song is replaced with further references to money: "With your ching-a-ling and your ping-a-ping, with your dollars and cents and your pecunia (finance), your ching, kerching-kerching."
Dutch TV Toy parody lyrics
Look at me, I am such a sweet country.
World leaders eat obediently out of my hand. And I put out all fires with a kiss.
We are having a party, wanna come? Soon in the al-Aqsa mosque, which will soon be empty anyway.
From Haifa to the Dead Sea, there are fireworks and kosher satay. So just come and dance with me.
Is your country surrounded by rock throwers? Build walls like Trump himself has wet dreams about.
Throw a buk-a-buk, throw a buk rocket.
Look how nicely I throw bombs.
Yes, again, Israel is winning, Already for 70 years this party has been going on. Look how nice.
Critics say the parody evokes traditional anti-Jewish prejudices by associating Jews with money.
Some 800,000 people are reported to have watched the satire show on public broadcaster NPO1 on Saturday and Hanna Luden from the Centre for Information and Documentation on Israel condemned the song as "really poisonous".
While programme host Sanne Wallis de Vries declined to comment, the broadcast group behind her show, BNN Vara, said it was not meant to be anti-Semitic.
"In Sanne Wallis the Show, events of the past week are discussed in a satirical manner. Last week Israel winning the Eurovision song contest coincided with a flare-up in the conflict in the Gaza Strip.
"The parody brings Israel's policy up for discussion and is emphatically not an indictment against the Jewish community."