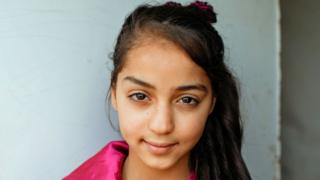 At the age of just 11, Sara's plans for the future are already clear.
"I will become a surgeon," she says firmly.
It's a noble ambition, shared by youngsters the world over.
But unlike many of her peers, Sara has more hurdles to overcome to achieve her goal.
Because Sara, along with her parents and three little brothers, Ali, Deeb and Hadi, currently lives in a two-room tent in an informal settlement in the Zahle District in the Beqaa Valley, Lebanon.
'Lost generation'
They are refugees from Syria.
The youngster is one of millions of children around the world who are currently displaced due to conflict, violence and war – and whose plight is highlighted on World Refugee Day.
These young people have often been dubbed the "lost generation" – at risk of missing out on the basic entitlements of a happy, peaceful childhood – such as an education.
Sara could be considered one of the lucky ones – she is attending primary school, and talks about her school experiences with pride.
With the aid of an interpreter, Sara explains how she takes a bus each day to an elementary school in Taalabaya, Beqaa Valley.
She has classes in Arabic, English, maths, science, geography, sports and arts.
School is enjoyable; her favourite things she says, are "the school and teachers, friends and classes".
And her favourite subject is English "because I love the teacher".
Homework in a tent
Outside of school, she helps at home, and plays with her brothers.
While adulthood is still some years away, Sara's eye is on her future career.
"I will become a surgeon, a doctor, in the future," she says, her reason simply "because they take care of people."
The youngster says she knows she will have to study hard, and believes her school is helping her on the path to success – science is a "good subject" for her, she says.
Her homework is done in the main room of the family's tent, built by her father Ghassan, for $1,000 at $100 a month.
It has been the family's home for the last three years.
'A safe place'
Sara and her family moved to Lebanon five years ago, after their home in Syria was attacked and partially collapsed, leaving neighbours fearing they had died in the blast.
By this point, they had already been displaced several times due to the conflict, and Sara was around six years old when the family were forced to leave the country.
In their homeland, Ghassan was a tailor – he now takes on any kind of work to provide for his family.
His wife, and Sara's mother, Fatima, was a kindergarten teacher in Syria, but differences in the curriculum between the two countries means she is not currently working.
The youngster says she misses her family and house in Syria, and that in Lebanon they live a very "different life".
She has hopes that the family will be able to live somewhere else, saying: "The tent is very hot in summer and very cold in winter."
Asked where she would like to live in the future, she has a very simple wish: "A place there is no violence. In a safe place."
Sara's education has been provided by a partnership between the UN agency, UNRWA, which works with Palestinian refugees, and the Education Above All Foundation (EAA).
The partnership is providing primary education to out-of-school Palestinian refugee children who have had to leave Syrian schools due to the conflict.
By working together, they have reached more than 66,000 primary-level children across Lebanon, Jordan and Syria.
The Foundation itself has committed to providing education for more than 10 million children who do not have access to good quality schooling, with 6.6 million youngsters already enrolled.
Dr Mary Joy Pigozzi, executive director of Educate A Child, one of EAA's programmes, says that Sara's story "illustrates the fundamental importance of education in transforming the lives of children who have been displaced".
"Every child should have the opportunity to enjoy school in the way Sara does, regardless of their difficult circumstances," she says.
She adds: "As a global community we have a responsibility to reach every single out of school child".
---
More from Global education
The editor of Global education is sean.coughlan@bbc.co.uk
---