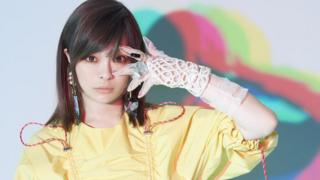 Kyary Pamyu Pamyu is one of Japan's biggest pop stars and an eccentric princess of Harajuku fashion.
Thanks to her colourful, hyper-kinetic dance songs, she's one of the few J-Pop stars to cross over to the West, winning endorsements from the likes of Katy Perry, Ariana Grande and Charli XCX; and curating an exhibition, The World Goes Pop, for Tate Modern.
Originally a fashion blogger and model, she launched a musical career at the age of 18, when producer Yasutaka Nakata encouraged her to try singing.
He's written and produced all of her subsequent singles, from 2011's bouncy viral smash PonPonPon, through to today's Kimino Mikata, which has a harder, electronic edge (and one of the most impressive music videos of the year).
In the conveyor belt world of J-Pop her longevity is a rarity; but that's mainly because she maintains a firm grip on her image – a mixture of Kawaii (cuteness) and the grotesque that's matured and developed as she's hit her mid-20s.
The star, born Kiriko Takemura in Tokyo, recently came to the UK with her haunted house-themed world tour, The Spooky Obakeyashiki: Pumpkins Strike Back, playing to a sold-out crowd at London's Koko; and a rather more bewildered festival audience at Brighton's The Great Escape.
As she doesn't speak much English, we sent along Orono Noguchi – the Japanese-born frontwoman of the indie band Superorganism – to chat to her ahead of the show.
A self-confessed superfan, Orono quizzed Kyary on her likes and dislikes, as well as her experiences of Western cuisine.
Orono: I've never done an interview before.
Kyary Pamyu Pamyu: Really?
What are the BBC thinking, asking a mere 18-year-old kid to interview the Kyary?
Good luck!
What have you been listening to lately?
I've been listening to (Japanese garage rock band) CHAI.
Is that really what you're listening to!? I'm a huge fan!
Are you? I'm going to play in a gig with them soon.
Seriously? We became friends at SXSW.
I'm close to CHAI, too. The beginning was that their music is centred around the word "Neo-Kawaii" (finding cuteness in imperfection) and I got curious about them. Their music is cool and they are very much 2018.
I think so too… Do you like Starbucks?
I like Starbucks!
What's your favourite?
It's on the secret menu: Choc Chip Cream Frappuccino. I love Frappuccino with choc chips.
Wow! Are there flavours you don't like?
Well, I can't drink coffee, it's so bitter.
Yep. I can only drink coffee with lots of milk and sugar.
I can't even drink that.
When I came to London for the first time, my bandmates (who mainly hail from Britain and New Zealand) really loved coffee. They're in their late 20s and real grown ups. I had coffee every morning with them – just to bond – but my stomach disagreed with me violently.
You did your best. I wouldn't drink coffee.
It was humiliating. Well, what is your favourite colour?
It's a bit muted but I quite like lavender. And I like black as well. Black and white. My nails are painted black, too. I don't wear many colourful clothes in private.
Really?
Yep. Because I wear (colourful) costumes, I wear a lot of black and white off stage. Today's costume is extremely loud.
In the West, you're often called 'Japan's Lady Gaga'. What do you think of that?
Lady Gaga had a very gaudy image with huge impact at the beginning. I'm very pleased to be described like that. But you'll get tired of being eccentric after a while. I think she's evolving and I'm visually evolving too. That's how it is.
So what is the latest development for Kyary Pamyu Pamyu?
Now is the year to challenge. I'm planning to create new music in 2018, not a sequel. My latest song is said to have a more grown-up feel to it visually. It's not just pop, sparkling and kawaii. Recently I've been wanting to try something new.
You collaborated with people like Sophie and Charli XCX in the past. Do you mean that you would like to do more of that?
I would like to collaborate, too.
Any particular artists?
I'm a big fan of Katy Perry.
I saw you had your photo taken together recently.
Yes, we did! I went to see her gig the other day and we've talked before. I've been listening to her music ever since I was in high school. I wanted to make girls' dreams real with my music like Katy does. So I love Katy.
How about Superorganism?
I didn't know anything about (your band) but I asked for recommendations on the way here, and I was told Superorganism is the one to watch. So I'll get into it!
About my outfit: My own parents said it was unfashionable. They say I don't have any style! Could you advise me on fashion?
What kind of clothes do you like?
Well, something comfy.
Are you the only Japanese member of the band?
I'm the only one.
When I go abroad, I try to incorporate Japanese motifs in my costumes. When I play my concerts on this tour, The Spooky Obakeyashiki, I'll wear some costumes inspired by kimono. It warms my heart when I see Japanese artists on stage wearing costumes with Japanese elements. I recommend you try it.
What kind of person is your producer, Nakata?
He's normally quiet. But he's so knowledgeable on something he's interested in or he likes and then he won't stop talking about it.
So he's quite introverted?
He is quite girlish at heart, probably. He's popular amongst women. I think he understands the female heart thoroughly to be able to write such lyrics, especially for (his other band) Perfume.
What do you think about British music?
I don't know much about British music… But Charli's music is really cool.
What about the food in England? What's the most awful thing you've eaten?
Awful? Oh, yes, there's one! It was when I visited a long time ago, maybe my first time. I had heard that English food could be quite simple. There was a bowl of bean soup and that was it.
It's awful, isn't it? I had that at a festival the other day.
You had that, too?
I was so sad.
So I thought, 'Whaaat?' It was very bland as well and came with bread. I had to have lots of bread so I wouldn't go hungry. So I thought meals in England were simple but there was pasta this time. The restaurant I was taken to was great and all the meals were fantastic. So I don't have that impression any more.
Last question: I heard you own a rollercoaster. How did that come about?
That's at Universal Studios Japan. They asked me if I'd be interested in a collaboration to make it more fun and we agreed to create an indoor rollercoaster in a virtual world, using VR goggles. When we filmed it, they had to stick lots of round dots on me and do motion capture like Planet of the Apes – so I appear in the video realistically while you ride the coaster.
I tried it by myself and found it very exciting because I didn't know where the rollercoaster was going. You can't see the rail while you're watching the virtual world.
Thank you for talking. All the best for your performance.
I'll do my best! All the best!
All the best!
Follow us on Facebook, on Twitter @BBCNewsEnts, or on Instagram at bbcnewsents. If you have a story suggestion email entertainment.news@bbc.co.uk.