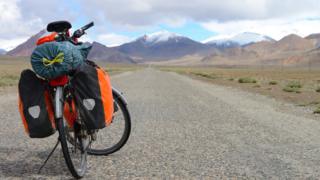 The Islamic State group (IS) has said it was responsible for an attack in Tajikistan on Sunday, in which four foreign tourists were killed.
Two Americans, a Swiss and a Dutch national died when a car hit them in the Danghara district, about 70km (43 miles) south-east of the capital Dushanbe.
Three other tourists were also injured.
This is the first time IS has claimed an attack in Tajikistan, but the group has not provided proof of its claim.
Two people suspected of involvement were later killed by authorities in a special operation. Another four were arrested in the same operation and a damaged car believed to have been involved was recovered.
A further three suspects were "rendered harmless" after being traced to a village, officials said. It is unclear exactly what this means, however, Prague-based privately-owned Tajik news website Akhbor suggested they had been killed.
IS later said it had carried out the attack on "citizens of the crusader coalition".
IS efforts in Central Asia
By Mina Al-Lami, BBC Monitoring
The Islamic State group (IS) isn't known to have a presence in Tajikistan. However, the group has had members from the country, and from other Central Asian states. Tajik authorities have in the past arrested alleged IS recruiters or sympathisers.
In May 2015, a former member of Tajikistan's special OMON police unit, Gulmurod Khalimov, pledged allegiance to IS and migrated to territory held by the group. This was flaunted in an IS-linked video in an effort to inspire others in Tajikistan to follow his example.
In February 2018, IS said its attacks in Russia and former Soviet countries had entered a new phase, inciting sympathisers to attack Christians in "the Caucasus, Crimea, and Central Asia countries".
"The current stage", said IS via its weekly newspaper al-Naba, "does not require groups with big numbers of trained fighters, nor heavy weapons. Rather, it requires a mujahid to use whatever weapon he can get his hands on" to attack.
Such attacks, it said, would instil fear in Christians and prompt them to leave these countries.
A video which appears to be of the same incident seems to capture the moment the car is driven into the unsuspecting cyclists.
According to the minister, three of the tourists died instantly and one on the way to a nearby hospital.
"One had knife wounds, he received medical help, now his condition is stable," Mr Rahimzoda told reporters.
The victims were on a tour in the Central Asian country with three other tourists from France, the Netherlands and Switzerland.
Tajikistan has struggled with poverty and instability since the former Soviet republic became independent in 1991. It had declared 2018 a "year of tourism", AFP news agency said.