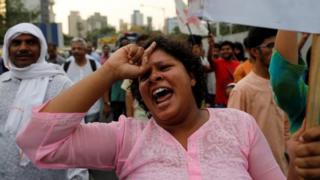 India feels like it is going through an upsurge of sexual violence against children, with reports dominating the news week after week and prompting public anger.
In June, hundreds came out on to the streets in central India protesting over the rape of a seven-year-old girl.
Has there been a rise in the sexual abuse of children, defined as anyone under the age of 18, or is it that more cases are coming to light?
It's partly down to more reporting by India's rapidly expanding media sector, dominated by television and mobile news providers.
There have also been changes to the legal definition of rape and a new requirement that makes it mandatory for the police to record complaints of sexual assault.
The current debate was sparked in part by the rape and murder of an eight-year-old girl in Indian-administered Kashmir earlier this year.
The trial of the men alleged to be involved started in April and led to a wider discussion about the prevalence of child sexual abuse.
India's Women and Child Development Minister, Maneka Gandhi, said she was "deeply disturbed" by the Kashmir rape case and other cases that had come to light.
In acknowledgement of growing public concern, the Indian government introduced the death penalty for anyone convicted of raping a child younger than 12.
Legal definition change
Latest data released by the Indian government shows that child rapes reported to the authorities doubled over the five years from 2012 to 2016.
Prior to 2012, there was no single law specifically dealing with children as victims of sexual offences (and rape was strictly defined as penetration).
Some forms of sexual assault – which may be more common with child victims – were not included, while the police faced no sanction for refusing to register complaints by victims.
The landmark Protection of Children from Sexual Offences Act of November 2012 was India's first comprehensive law to deal specifically with child sex abuse.
The number of reported cases of child rape rose by nearly 45% the next year.
The new act is gender neutral and includes various forms of sexual assault.
It also makes the failure to report or record a case of child sex abuse punishable with a jail term and fine.
"Doctors and police are not able to turn back complainants by dismissing their complaint as a 'household matter' any more as this can land them in jail," says Audrey D'Mello of the Mumbai-based Majlis Legal Centre, that supports sex abuse victims.
She believes the requirement for the authorities to now register complaints has had a big role in increasing the number of reported cases.
The gang rape of a female student on a bus in Delhi in December 2012 generated global interest in sexual violence in India and brought the focus squarely on the role of the police in investigating such crimes.
Soon afterwards, the Indian government broadened the definition of sexual crimes against women by enacting the Criminal Law Amendment Ordinance 2013.
The effect was very apparent with a rise of more than 35% in reported cases of rape in 2013 compared with 2012.
Tip of the iceberg
There are those who believe that child sexual abuse may be much more prevalent than had been assumed.
In 2007, the Ministry of Women and Child Development conducted a survey that recorded responses from more than 17,000 children across 13 Indian states.
Just over half of the children surveyed (53.2%) reported that they had faced one or more forms of sexual abuse.
For the purposes of this study, various forms of sexual abuse were included, not only rape.
Kumar Shailabh, a lawyer at the Haq Centre of Child Rights, says the study highlights that there has been gross under-reporting of sexual abuse in India.
He also points out that the age of consent was increased from 16 to 18 years in the 2012 act, leading to the criminalising of consensual sexual relationships among young people between those ages.
Difficult legal process
Despite the increase in the number of reported cases of child rape and a comprehensive law, the conviction rate is unchanged since 2012 at 28.2%.
The 2012 act states that a trial in any case of child sex abuse should be completed within one year. But this is rarely followed as the legal process remains slow.
Where the offender is either a family member or someone known to the victim, the pressure to withdraw complaints can be immense.
Families are hesitant to bring complaints against their own members out of concern for "family honour".
Ms D'Mello says: "Even when complaints are made, there is an unspoken effort to not prosecute the offender, the system works against the complainant and she is often proved to have made a false accusation."