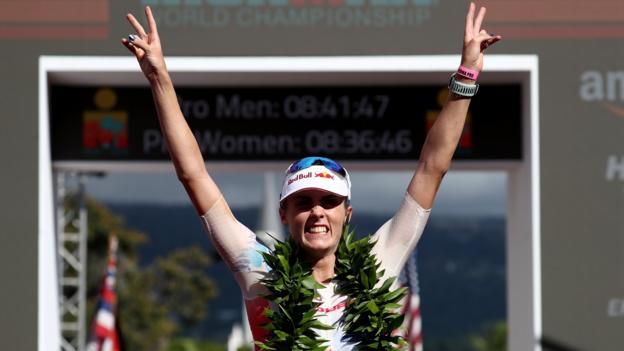 Britain's Lucy Charles took silver in the Ironman World Championship behind Daniela Ryf who won despite being stung by a jellyfish just before the start.
The 31-year-old Swiss said the pain was so bad that she considered pulling out of the race in Kona, Hawaii.
After the swimming section, she was nine minutes off the lead but fought back to win in record time.
In the men's race, Patrick Lange retained his title and then proposed to his girlfriend on the finish line.
Germany's Lange, 32, set a course record, breaking the eight-hour mark for the first time, while Britain's David McNamee finished third.
"This was the most intense, most beautiful, most amazing thing that I've ever experienced in my life after just asking Julia to marry me," he said.
'I told myself I couldn't give up'
Ryf, who won for the fourth successive year, said she was stung in the armpit by the jellyfish moments before the race began.
"I didn't know if I could make it through the swim in such pain – it was horrible," she said.
"I thought, 'I can't give up,' because I'm the defending champion, and I knew little kids would be watching the race.
"But I told myself that I couldn't give up because you never know what can happen out here."
She claimed a course record of eight hours 26 minutes 16 seconds, beating the previous best time by 20 minutes.
Charles, 25, broke the course swimming record on her way to matching the second place she recorded on her debut at the event last year.
The Ironman triathlon sees competitors complete a 3.8km swim followed by a 180km cycle section and finally a 42.2km run.
Classification
Men
1 Patrick Lange (Ger) 7hrs 52mins 39secs
2 Bart Aernouts (Bel) +4mins 2secs
3 David McNamee (GB) +7mins 30secs
4 Tim O'Donnell (US) +9mins 38secs
5 Braden Currie (NZ) +12mins 2secs
Women
1 Daniela Ryf (Sui) 8hrs 26mins 16secs
2 Lucy Charles (GB) +10mins 16 secs
3 Anne Haug (Ger) +15mins 41secs
4 Sarah True (US) +17mins 26secs
5 Mirinda Carfrae (Aus) +24mins 28 secs