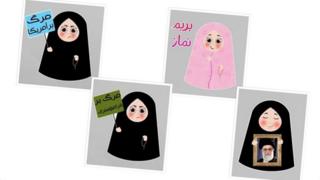 Iran is promoting a domestically-produced mobile messaging app, complete with a "Death to America" emoji, in an attempt to get millions of Iranians to abandon the popular Telegram service, which it blames for promoting unrest in the country.
Among the features on new app Soroush are a series of emojis featuring a chador-clad woman clutching a picture of Supreme Leader Ali Khamenei, and placards wishing death to Israel, America and Freemasons.
The Soroush app is even the subject of a competition in the country's elite Quds Force of the Islamic Revolution Guard Corps, where five lucky people will be given gold coins for signing up. The competition was announced on the Force's Telegram channel.
Ayatollah Khamenei has emerged as a champion of the new app, closing down his account on Telegram and telling users to do the same and sign up to the Iranian-produced service.
"The activities of the presidency's Telegram channel have stopped in support of domestic messaging apps," state broadcaster IRIB also reported last week.
Some 50 million Iranians, attracted by Telegram's strong security and privacy features, use the app. But the authorities blame its use for the spread of anti-establishment protests in the country in December.
Soroush, which currently claims five million users, closely resembles Telegram in that it allows users to join channels, follow news, and conduct business online. But users don't seem to be buying assurances by officials – including the Supreme Leader himself – that user privacy will be fully protected on the domestic app.
One joke doing the rounds on social media says that Soroush's three-tick message receipt notification (as opposed to Telegram's two ticks) confirms that an intelligence officer has read the message in addition to the sender and receiver.
Telegram vs Tehran and Moscow
Iran's Supreme Cyberspace Council has issued a ban on the use of foreign apps by public institutions, amid reports that Telegram, as the most popular messaging app in Iran, may be blocked by the Iranian government any time.
The Islamic Republic wants Telegram to abide by its laws, a demand which has been repeatedly turned down by the company's Russian founder Pavel Durov, who says Telegram will always "stand for freedom and privacy".
Telegram was banned recently in Russia after Mr Durov refused to hand over encryption keys to the authorities.
Meanwhile, Iran's Supreme Leader, president and other officials are still posting on their accounts on Twitter, which is still officially banned in Iran, and Ayatollah Khamenei's office is still active on Facebook. The Supreme Leader has seven pages on Twitter in different languages.
Reporting by Alistair Coleman
Next story: Chinese university hosts grenade-throwing contest
Use #NewsfromElsewhere to stay up-to-date with our reports via Twitter.