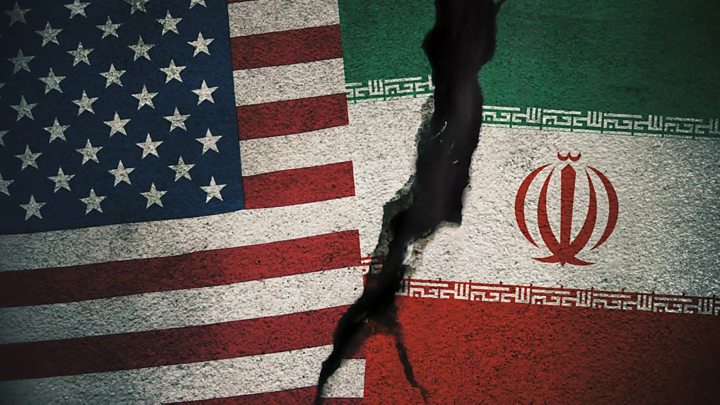 Iran is to inform the United Nations' nuclear agency that it is beginning the process of increasing its capacity to enrich uranium on Tuesday.
It said it would increase its capacity to produce uranium hexafluoride, a key ingredient for enrichment.
Iran's Supreme Leader, Ayatollah Khamenei, said he had ordered preparations for enrichment, should the 2015 nuclear deal fail completely.
President Donald Trump pulled America out of the deal last month.
It is not yet known whether European countries will keep afloat the deal, which is aimed at denying Iran a nuclear weapons capability.
What happens on Tuesday?
The Iranian Atomic Energy Organisation will hand a letter to the UN nuclear agency, the International Atomic Energy Agency (IAEA), in Vienna informing the agency of the decision regarding uranium hexafluoride.
"Iran will announce that the process of increasing the capacity to produce… UF6 [uranium hexafluoride]… will start on Tuesday," said Behrouz Kamalvandi, a spokesman for Iran's nuclear agency,
"The leader [Ayatollah Khamenei] meant that we should accelerate some process… linked to our nuclear work capacity to move forward faster in case needed," he added, as quoted by Reuters news agency.
He said the country had the capacity to accelerate production of centrifuges, which are used to enrich uranium.
Under the 2015 accord signed by Iran, the US, France, Germany, the UK, Russia, and China, Iran's uranium enrichment was strictly limited, removing its ability to produce a nuclear weapon. In exchange, the country received relief from crippling sanctions, most of which were lifted in January 2016.
But President Trump dramatically pulled out of the agreement, leaving the remaining European signatories scrambling to save it. Secretary of State Mike Pompeo said the US would re-impose its sanctions on Iran.
What are Iran's conditions?
Ayatollah Khamenei set out several conditions for staying in the nuclear deal with the remaining world powers, including protection of Iranian oil sales and safeguarding of trade.
The Iranian authorities have said that if the European countries fail to keep the pact alive, Tehran has several options, including enrichment of its uranium to 20% purity.
The 2015 deal limited Iran to enriching uranium only to 3.67%, far below the roughly 90% threshold of weapons-grade material.
Iran insists its nuclear programme is entirely peaceful, and that its compliance with the deal has been verified by the IAEA.
Iran's conditions are:
European powers should protect Iranian oil sales from the US sanctions and continue buying Iranian crude
European banks should safeguard trade with Iran
The UK, France and Germany should pledge not to seek negotiations on Iran's ballistic missile programme and regional activities, both demanded by Washington
The supreme leader said that if the three countries were unable to meet these demands, Iran would resume its enrichment of uranium. He also said Iran could no longer have any dealings with the US.
"The Islamic Republic cannot deal with a government that easily violates an international treaty, withdraws its signature and in a theatrical show brags about its withdrawal on television," he said.
Iranian Foreign Minister Javad Zarif began a diplomatic tour last month in an effort to persuade the deal's other signatories to keep to it. He accused the US of an "illegal withdrawal" from the deal and "bullying methods to bring other governments in line".