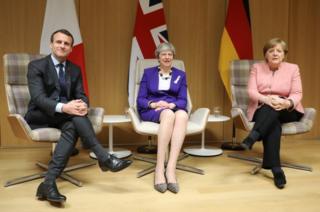 The leaders of the UK, France and Germany have agreed that pursuing the current deal with Iran is the best way to stop it developing nuclear weapons.
Theresa May, Emmanuel Macron and Angela Merkel discussed the importance of maintaining the existing deal in separate phone calls over the weekend.
But they also agreed on the need to address some of the concerns raised by US President Donald Trump.
Mr Trump is due to decide in the coming weeks whether to abandon the deal.
He has been a strong critic of the 2015 international accord, calling it "insane".
Among his complaints is the lack of restrictions on Iran's ballistic missile programme and he says it does nothing to halt Iran's support for militant groups in the region. He also wants to scrap the deal's so-called "sunset clauses", one of which allows for the lifting of restrictions on Iran's nuclear enrichment programme after 2025.
In a statement on Sunday, Downing Street said Mrs May had agreed with her European counterparts that the Iran nuclear deal (Joint Comprehensive Plan of Action) was "the best way of neutralising the threat of a nuclear-armed Iran".
"They agreed that there were important elements that the deal does not cover, but which we need to address – including ballistic missiles, what happens when the deal expires, and Iran's destabilising regional activity," it added.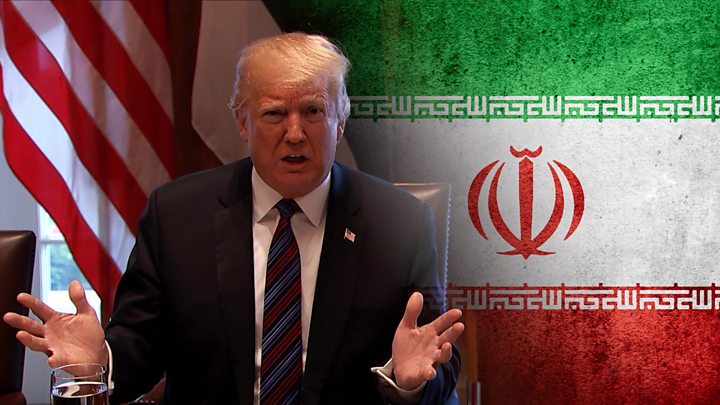 The new US Secretary of State Mike Pompeo also strongly condemned what he said were Iran's efforts to destabilise the region, on his first visit to Saudi Arabia on Sunday.
"It supports proxy militias and terrorist groups. It is an arms dealer to the Houthi rebels in Yemen. It supports the murderous Assad regime [in Syria] as well," he said in a joint news conference.
Both Mr Macron and Mrs Merkel have tried to persuade the US president not to drop the deal in visits to Washington in the past week.
US National Security Advisor John Bolton told Fox News on Sunday that Mr Trump had not yet made his decision.