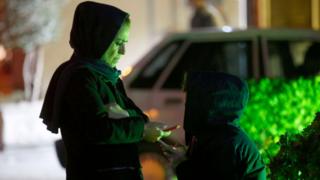 Iran has banned all use of the popular Telegram messaging app.
The ban had been introduced to protect "national security", said a statement aired on state television.
It is believed the ban is connected to protests expected on 12 May if US President Donald Trump re-imposes sanctions on Iran.
Iranian authorities have complained before about the way Telegram has been used by anti-government groups to organise rallies and protests.
State television programmes in Iran said the ban had been prompted by "various complaints" against Telegram by Iranians and the demands of the nation's security services to "confront" its illegal activities.
A statement placed on Mizan, the official website of Iran's judiciary, said the security of the state had been threatened by the actions of Telegram users, which included "propaganda against the establishment, terrorist activities, spreading lies to incite public opinion, anti-government protests and pornography".
Protests are expected in Iran later this month as an accord that lifted economic sanctions on the nation comes up for renewal.
President Trump has set a deadline of 12 May for what he described as "flaws" in the deal to be fixed. If they remain, he is set to abandon the deal.
Read more on this topic:
The ban, which cuts off access to the Telegram website and its app, came into force on 30 April.
In late April, Iranian officials told Telegram to move some servers out of the country to stop the sharing of images and videos via Telegram.
In January, the app suffered a short ban following protests in more than 80 cities, many of which, the government says, were organised via the app.
Telegram is believed to have about 40 million users in Iran. Many use it because the way it encrypts or scrambles messages makes it much harder for security services to scrutinise what they are saying.
The Iranian government has sought to push citizens to use official alternatives to Telegram, including the Soroush messaging app.
Iran's action against Telegram follows similar moves by Russia to block use of the app. Users mounted protests in Moscow this week, calling for the lifting of the block and to lobby for more online freedom.