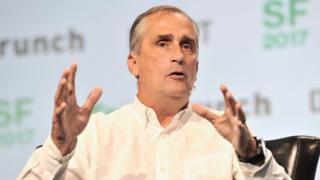 Chipmaker Intel has announced that its chief executive, Brian Krzanich, is stepping down with immediate effect because of "a violation of Intel's non-fraternisation policy".
He had been in the post since May 2013.
Intel said an inquiry had revealed that Mr Krzanich had had a consensual relationship with an Intel employee, which was against company rules.
His successor has been named as Robert Swan, currently the company's chief financial officer.
The company said the relevant policy applied to all managers.
"Given the expectation that all employees will respect Intel's values and adhere to the company's code of conduct, the board has accepted Mr Krzanich's resignation."