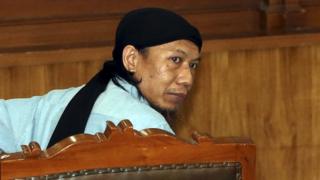 An Indonesian cleric found guilty of masterminding a 2016 terror attack in Jakarta which left four civilians dead has been sentenced to death.
Aman Aburrahman was convicted of planning the attack which saw a suicide bomber blow himself up at a Starbucks.
The cleric, who had declared his support for the Islamic State (IS), is also the spiritual leader of a local extremist network.
The 2016 attack was the first linked to IS in Indonesia.
Aburrahman, 46, has been in prison since 2010 but the court heard he planned the attacks from his jail cell.
The judge said in the sentencing on Friday that Abdurrahman had been proven guilty of "carrying out terrorism".
He had pleaded not guilty, saying he had inspired his followers to travel to Syria to fight with IS but had had not ordered attacks in Indonesia.
He is the spiritual leader behind the Indonesian-based Jemaah Ansharut Daulah (JAD) military group, which had previously pledged allegiance to IS.
Aburrahman is also considered to be the de facto head of IS supporters in Indonesia.