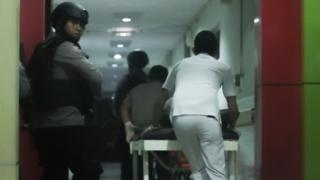 Four men who attacked a police station with samurai swords in Indonesia have been shot dead, authorities say.
The group began the assault by ramming a car into the police headquarters in the Sumatran town of Riau.
A police officer was killed and one of the assailants arrested. The Islamic State (IS) group has claimed the attack via its news outlet.
It comes after a series of suicide attacks carried out by families that have shocked the country.
Police blame a local IS-inspired group, Jemaah Ansharut Daulah (JAD), for the attacks.
Indonesia is the world's most populous Muslim-majority country.
Following the 2002 Bali bombings, it had been widely praised for its sustained anti-terrorism crackdown.
It managed a combination of arrests and killings, alongside a de-radicalisation program that focused on changing minds and providing alternative incomes for released terrorists.
But, the country now faces a new threat, in part from from IS fighters who have come home after combat in Syria.
Four days of violence