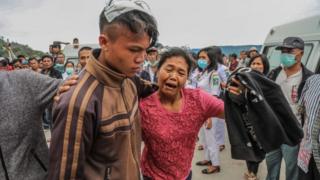 Indonesian police have detained the captain of a ferry that sank in Lake Toba in Sumatra leaving three people dead and at least 190 missing.
The vessel went down on Monday in what is feared to be one of Indonesia's most deadly maritime disasters.
It was only licensed to transport 60 passengers and was operating without an official ticket system, making it difficult to trace those on board.
Police say they have yet to question the captain because he is traumatised.
Lake Toba, the world's largest volcanic lake, was busy with tourists celebrating the annual Eid holiday when the ferry sank in poor weather.
As many as 193 people, including children, are feared to be unaccounted for, police said on Thursday. Authorities have relied on reports from survivors and the families of missing relatives, they added.
Many victims are thought to have been trapped inside the vessel, police said.
"This is a test from God for our family," Fajar Alamsyah Putra, whose brother Bagas Prama Ananta is among the missing passengers, told BBC News Indonesian.
"He was inside the ferry when the ship sank and could not get out, the ferry quickly capsized. A friend of his was on the deck and was able to jump off in time to get help from another passing ferry," he said.
Indonesia's national search and rescue agency earlier said that only 18 survivors had been found, all within hours of the tragedy, and that three bodies had been recovered.
Desperate families have spent the past days waiting for news from the search-and-rescue boats returning to shore.
On Wednesday, divers and an underwater drone joined the search efforts. The teams still need to locate the wooden ferry at the bottom of the 450m (1,500ft)-deep lake.
According to official regulations, all boats in Indonesia must not exceed capacity and must have life jackets for every passenger on board.
But authorities admit that they struggle to monitor all the boats operating across Indonesia's vast archipelago.
The national committee for transportation safety says that 40% of boat accidents in Indonesia are caused by human error, and only 12% are due to bad weather.