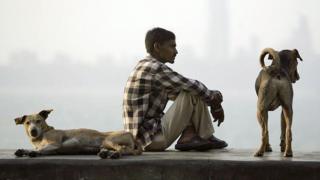 Dogs have allegedly killed at least 12 children since November in the northern Indian state of Uttar Pradesh. But some believe that wolves or jackals are to blame. The BBC's Nitin Srivastava travelled to Sitapur district to find out more.
A walk into a lush green mango orchard has never been this frightening.
Escorted by three young men, each armed with a big bamboo stick, we make our way to a tree trunk which still has blood stains on it.
This is the spot Khalid Ali was mauled to death by what is believed to be a pack of stray dogs on 1 May. The 11-year-old had been on his way to school in Gurpallia village when he made a detour to pick some fruit.
"I heard loud screams from the neighbouring orchard in the morning. What I saw was gory. This little boy, who was being attacked by dogs, tried to climb up a tree but the animals pulled him down and mauled him. I ran towards the village for help," Ameen Ahmed, a 65-year-old mango farmer says.
Khalid Ali had stopped breathing by the time villagers arrived. The "killer dogs" had vanished into the forests.
His devastated family is struggling to comprehend what happened.
"He died on the spot. He was so badly mauled there was no point taking him to the hospital," his weeping mother Mehzabeen says.
But Khalid was not the only victim of mauling that day. Two more children in a 26 sq km (10 sq miles) radius were also killed by packs of "killer dogs".
Around 12 children who have survived the attack have suffered terrible injuries.
Terrified parents have stopped sending their children to school.
Are the dogs to blame?
No-one seems to know why the stray dogs in the area have suddenly turned into "child killers".
Many villagers blame the closure of an illegal slaughterhouse in the area, which was a source of food for the animals.
But that theory doesn't really stand up since the slaughterhouse was shut down at least six months before the first mauling casualty was reported last November.
Rumours of a "rare breed of man-eater dogs emerging out of the nearby forests" have also spread.
Sabir Ali, whose nephew was one of the victims, says that the animals who attacked the child were not "the normal stray dogs thronging the villages".
"They were slightly bigger and their jaws were like that of a jackal."
Teams from the World Wildlife Fund and Indian Veterinary Research Institute have been camping in the region to ascertain the exact breed of the animals.
Vivek Sharma, the chief trainer with the Animal Welfare Board of India, who is in the district to try to solve the mystery, believes the "dogs" may actually be wolves.
"I won't be surprised if the real culprits are wolves, and rabid ones. They can travel between one and 20 kilometres within a day, they attack in groups and only target minors," he says.
In fact, several wolf attacks have been reported in Uttar Pradesh and the neighbouring state of Bihar in the past few years. The animals had attacked livestock and children.
Asghar Jamal, a reputed dog breeder in the region, says cross-breeding between dogs and hyenas or wolves could be to blame.
"This would give us a variety of dog which though not a hunting hound, is as deadly as them in nature."
Counter-attacks
Local authorities, however, are not convinced and believe they have almost solved the mystery.
"All eye witnesses have said dogs are attacking kids and we have caught more than 50 such dogs. Their behaviour is being monitored by experts," Sitarpur's police chief Anand Kulkarni says.
Photographs and videos of more than a few dozen dogs who have been killed or captured also indicate that the animals are the stray dogs that are found across north India.
But a deadly round of revenge killings has also set in.
"We have killed six dogs in the last week though they are wild and it's not easy to chase them barefoot. We keep moving in groups throughout the day and track them into the forests," Wasee Khan, from Gurpallia village says.
With media pressure mounting, local officials also appear to be on a drive to capture as many dogs as possible.
Thirteen "dog-tracking teams" equipped with drones, wireless sets and night vision devices have been formed and carry out regular "dog raids".
But life for those who have lost loved ones continues to be traumatic.
"Had I known of these brutal attacks, I would have locked my nine-year-old son at home," the sobbing mother of another victim says.