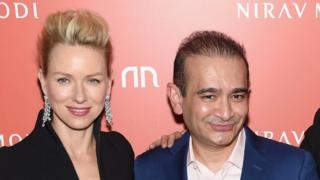 Nirav Modi, whose jewellery has been worn by Hollywood and Bollywood stars, is seeking political asylum in London following fraud allegations, the Financial Times has reported.
The Indian jeweller went missing in February after allegations emerged of a $2bn fraud at the Punjab National Bank.
Indian police issued a warrant for his arrest.
The firm's Indian stores were closed, and assets were seized including bank accounts and luxury cars.
Over the past eight years Mr Modi has established an international jewellery brand with stores in London, New York and Hong Kong, selling diamond encrusted necklaces and earrings.
Stars such as Kate Winslet, Rosie Huntington-Whiteley and Naomi Watts, have been seen wearing his products. Bollywood star Priyanka Chopra advertises the brand.
The success made him one of India's richest people, with a personal wealth of $1.75bn, according to Forbes.
Earlier this year Punjab National Bank (PNB), India's second-largest state-run bank, alleged Mr Modi and his uncle Mehul Choksi had defrauded it of around $2.2bn.
The banks said they had used unapproved guarantees, issued by rogue PNB staff, to borrow from other lenders.
Both Mr Modi and Mr Choksi have denied any wrongdoing.
The Financial Times said that Mr Modi is now in London and seeking asylum from "political persecution". The report cites UK and Indian officials.
The Home Office said it could not comment on individual cases.