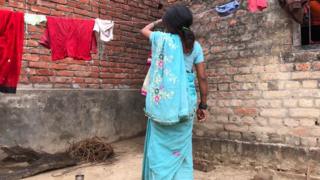 A woman is raped in India every 13 minutes, according to the country's crime statistics but convictions are few and far between. Here is how an investigation by BBC Hindi's Sarvapriya Sangwan led to the first arrest in a two-year-old rape case.
Lalitha (name changed on request) is 16 years old but her life is unlike that of most girls her age. She has a one-and-half-year-old son. She became pregnant in 2016 after she was allegedly raped by a friend of her family.
Born in a poor Dalit (formerly untouchable) family in a village in the northern state of Uttar Pradesh, she is the second of two daughters. Her father, an illiterate daily wage labourer, is a widower.
The accused, a 55-year-old friend of her father, allegedly offered to take her to state capital Lucknow in early 2016 to apply for a government scheme that would help pay for her wedding. But he allegedly raped her at knife point during the trip.
She did not say anything to her father when she returned home. It was only months later, when her pregnancy became visible and women in the neighbourhood questioned her, that she told them what she says happened.
"I want him to be behind bars, that's all I want," Lalitha said.
Her father lodged a police complaint on 24 June 2016, about six months after the alleged rape. But the accused was only arrested two years later – on 20 June 2018 – a day after BBC Hindi published its investigation into the delays in the case.
Until the arrest, BBC Hindi found, no charges had been filed against the accused. The police said they had been awaiting the results of a DNA report. A police officer told me that 5,500 cases were pending in Lucknow alone because of delayed DNA reports.
'Painfully indifferent'
Rape still carries a huge stigma in India – many women still do not report it and those who do spend weeks, if not years, fighting their case. They say the police, the courts and the system as a whole are often painfully slow and indifferent.
Analysts said this is partly because the police force is overworked and underpaid, and the courts are stretched thin with a lengthy backlog of cases.
Victims like Lalitha, who are poor and illiterate, are worse off. Dalits are among the country's most downtrodden citizens because of an unforgiving Hindu caste hierarchy that condemns them to the bottom of the heap.
A recent Supreme Court ruling sought to weaken a law – the Scheduled Caste and Scheduled Tribe (Prevention of Atrocities) Act – designed to protect them. The court said the law had been "misused" in the past but critics said such stringent laws were required because discrimination against the community was entrenched in the system.
The law, for instance, mandates that Dalit victims of rape must receive financial compensation – a sum of 500,000 rupees ($7,340; £5,535) – immediately. Victims of gang rape are entitled to 800,000 rupees.
The victims receive the money from the state government after police have registered a case. This happens prior to the conviction of the accused.
But Lalitha and her father said they had not received any compensation and they did not know that they were entitled to it – they said no-one had informed them about it either.
It also emerged that Lalitha had not recorded a statement before a magistrate until 19 July, some 25 days after the police complaint was lodged. But, according to a Supreme Court order, the victim's statement should be recorded within 24 hours and the police must explain in writing to the magistrate the reasons for any delay.
'Money power'
I spoke to or met several government officials – from the local police to the district magistrate to the state head of the Dalit welfare commission – to find out why Lalitha's case had not progressed, why her statement had been recorded so late and why she had not been paid compensation.
I was sent from one office to another and while they all acknowledged the problem, no-one was able to give me a clear answer.
A police officer eventually told me, "We should have paid the compensation two years ago, but it doesn't matter, we'll send it tomorrow."
If Lalitha had received the money earlier, it could have helped pay for her delivery, the child's care or legal help.
There also appeared to be discrepancies in the police complaint regarding Lalitha's age. According to her father, she was 14 years old when she was allegedly raped. Her statement to the magistrate too mentioned her age as 14. But the police complaint said she had been 20 years old.
The police told me that a medical examination at the time had concluded she was 20. What about her father's claim that she was only 14? The medial report cannot lie, a police officer told me.
But documents examined by BBC Hindi suggested someone had tampered with the report – a charge the police denied.
If the victim is younger than 18, the accused would be charged under an additional law.
Lalitha's father said he had no faith in the police investigation. He alleged that the accused had influenced the investigation with "money and power at every step".
With help from the head of the village council, he said he had also asked several government institutions for help but no-one had reached out to him in the past two years.
Lalitha has since been married off to a relative who paid for her delivery and other medical expenses. Her son is cared for by her father.
A day after the story was published by BBC Hindi, the accused was arrested and the investigation has now been reopened.
The head of the village council told me that the magistrate had recorded a new statement and arranged for the compensation to be paid to Lalitha.
The accused is now awaiting trial.