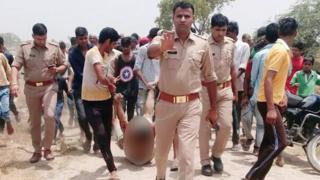 Police in the northern Indian state of Uttar Pradesh have apologised after a photograph of a lynched man being dragged by a crowd in the presence of three officers caused outrage.
The victim, identified as Kasim, died soon after the picture was taken, while on the way to hospital.
Police say he was beaten up after a "minor tiff" over a motorcycle accident. They deny he was attacked over reports of cow slaughter.
The state police tweeted the apology.
Speaking to the BBC, the chief spokesperson of the state police, Rahul Srivastava, said the pictures were "misleading" and the "policemen did not support lynching".
"The picture shows that man is being dragged and the policemen are doing nothing about it, but that's not true – the mob just wanted to continue attacking the man and our men were trying desperately to keep them away. However, they should have been more careful in how the man was carried and looked after him better. That is why we have apologised and ordered an inquiry," he added.
However this apology was also condemned by some who called it a weak justification for what had happened.
The image, which was widely shared on social media, had generated massive outrage amid reports that the victim had been targeted by "cow protection" vigilantes.
Hindus consider cows to be sacred, and for many, eating beef is taboo. The slaughter of cows is also banned in many Indian states.
Muslims have been attacked in several parts of the country on suspicion that they have either slaughtered cows or eaten beef.