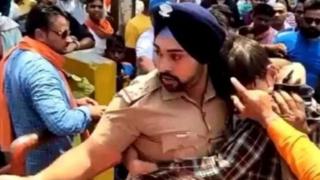 An Indian police officer hailed as a hero for protecting a Muslim man from being lynched by a mob has begun receiving death threats, police say.
Gagandeep Singh, an officer in the northern state of Uttarakhand, shot to fame after a video of him saving a Muslim man from a Hindu mob went viral on social media last week.
The man was visiting a temple with his Hindu girlfriend.
The mob surrounded the man and tried to attack, accusing him of "love jihad".
The term has been popularised by radical Hindu fringe groups who accuse Muslim men of participating in a conspiracy to turn Hindu women from their religion by seducing them.
When the video was first shared online, many called Mr Singh a "role model" for all Indians, and his story was carried in many mainstream Indian publications.
"I was just doing my duty. Even if I was not in uniform, I would have done the same thing and every Indian should do the same," he was quoted as saying by local media.
However it did not take long for people to criticise Mr Singh's actions, accusing him of defending "indecent behaviour".
Police officials working with him have said that he has received threats to his life, and has been sent on leave.
Some politicians have also publicly justified the actions of the mob.
"It's wrong when these people (Muslim men) bring Hindu girls to our places of worship despite knowing it's a temple and it's pious," Rakesh Nainwal, an MLA of the ruling Bharatiya Janata Party (BJP), told BBC Punjabi's Sunil Kataria.
Another BJP MLA Rajkumar Thukral told the ANI News Agency that this was an attempt by the man to hurt the feelings of the Hindu community.
"We don't go to mosques because we don't have the right to go there," he added.
"Then why did these men go to our temple with an intention to destroy the Hindu culture?"
But for some residents of Ramnagar district, where the incident took place, the turn of events has been disturbing.
"When a boy and a girl go somewhere together by choice, then how can these right-wing groups call it a case of "love jihad" and attack them?" Ajit Sahni, a resident of Ramnagar, told BBC Punjabi.