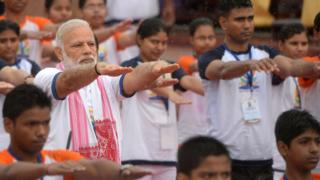 India's Twittersphere has exploded with workout videos from officials and athletes in response to a trending social media challenge.
It started when sports minister Rajyavardhan Rathore posted a video of himself doing push-ups, and urging people to join the #fitnesschallenge.
India's cricket captain Virat Kohli posted a video of himself doing a plank and challenged PM Narendra Modi to share his own.
Mr Modi has now said he will join in.
Mr Rathore's tweet has been shared more than 9,000 times and has generated a lot of response on social media.
Among those taking part are Virat Kohli, who posted a video of his "favourite core workout" – a plank complete with knee bends.
Mr Modi accepted his challenge and tweeted that he would share his own video soon.
A few Indian government ministers also took up the challenge, including junior home affairs minister Kiren Rijiju, who performed a series of push ups…
and railway minister Piyush Goyal who posted a yoga pose.
Mithali Raj, captain of the Indian women's cricket team, showed how to "train like an athlete".
Olympic medallist and badminton player PV Sindhu challenged friends on social media after she did some pull-ups.
Bollywood star Hrithik Roshan welcomed the initiative with a video of his morning commute by bike, tweeting "get FIT!":
In March, Mr Modi called for a "Fit India" movement, focusing especially on the benefits of yoga.
The campaign has gained traction in India, and Mr Modi has released videos of yoga exercises on his own social media accounts.