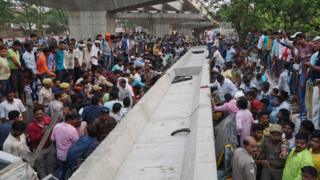 At least 18 people have been killed and dozens trapped in the Indian city of Varanasi after a flyover collapsed, crushing vehicles beneath it.
The flyover was still being built when portions of its cement structure fell on the road being used under it.
Officials from the National Disaster Response Force said 18 bodies had been recovered so far.
A rescue operation is continuing for those believed to still be trapped, but their number and condition is unknown.
Photographs and video from the scene showed cars and a bus crushed beneath the weight of the concrete, many of which still held people inside.
Local media reported that a handful of people had been successfully rescued, as seven cranes attempted to lift the concrete pillar. A large crowd also gathered at the scene.
One eyewitness told reporters they were nearby when the collapse happened. "At least four cars, an auto-rickshaw and a minibus were crushed under it," they said.
India's NDTV also reported that many of those trapped are believed to be construction workers who had been building the flyover.
The cause of the collapse is not yet known, and an inquiry has been ordered, NDTV added.
Major collapses of buildings and other infrastructure is not uncommon in India, where the enforcement of construction standards is weaker than many Western countries.
In January, dozens of people were injured when the floor collapsed at the Jakarta stock exchange; in September, 33 people died when a six-storey Mumbai building toppled; and more than 20 people died in 2016 when a flyover collapsed in Kolkata.
Other collapses with smaller death tolls are frequent.
Varanasi is the home constituency of India's Prime Minister Narendra Modi, who said he was "extremely saddened by the loss of lives due to the collapse".
"I pray that the injured recover soon. Spoke to officials and asked them to ensure all possible support to those affected," he tweeted.