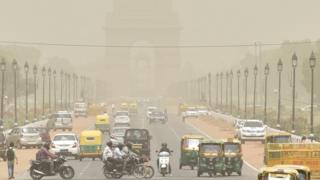 Residents of India's capital Delhi are battling high pollution levels and extreme temperatures due to an unusual dust haze covering the city.
People have been complaining about breathing problems, with many saying the city has become unliveable.
The state government has responded by banning all construction and deploying the fire brigade to sprinkle water across the city.
People have been advised to stay indoors as much as possible.
"In this case, dust has become a carrier of toxic pollutants. Pollution levels are 8-9 times higher than normal. And when we breathe, we are taking in toxic substances, which can have serious health repercussions," Anumita Roy Chowdhury, executive director of the Centre For Science and Environment, told BBC Hindi.
Delhi is already one of the most polluted cities in the world but the recent weather pattern has caused more problems for its residents.
Many have taken to social media to share their concerns and are urging the government to do something about it.
Experts say dust storms originating from the nearby desert state of Rajasthan are to blame.
"This phenomenon is not uncommon in the pre-monsoon season," Dr Kuldeep Srivastava of the meteorological department told the BBC.
"But this time the haze has stayed unusually longer because of the delay in the arrival of seasonal monsoon rains."
The air quality worsens every year in November and December as farmers in the neighbouring states of Punjab and Haryana burn crop stubble to clear their fields.
Pollution levels reached 30 times the World Health Organization's safe limits in some areas of Delhi last year.
The air quality improved in the following months but has gone back to "severe" from "moderate" in June this year.