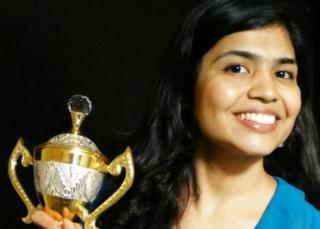 Indian chess champion Soumya Swaminathan has pulled out of an Asian tournament in Iran over the country's compulsory headscarf rule.
The 29-year-old Woman Grandmaster said the rule was a violation of her personal rights.
"Under the present circumstances, the only way for me to protect my rights is not to go to Iran," she wrote in a Facebook post, which went viral.
The Asian Chess Championship will take place in Iran next month.
Ms Swaminathan, who is ranked No 5 in India, told local media that the tournament was originally supposed to be held in Bangladesh. "But once the new dates and new venue came up, I excused myself," she said.
When asked if the All India Chess Federation (AICF) should have protested against the decision to shift location, she told the Times of India: "I can't expect everyone to be of the same opinion as me. It's a subjective issue."
But in her Facebook post, Ms Swaminathan said she was "disappointed to see that player's rights and welfare are given such less importance while allotting and/or organising official championships".
She wrote that athletes often made adjustments for the sake of sport, but "enforceable religious dress" should not be one of them, adding that "some things simply cannot be compromised".
Many on social media have praised Ms Swaminathan for taking a stand.
This is not the first time an Indian athlete has withdrawn from a tournament over the same issue. Heena Sidhu, a top shooter, pulled out from the Asian Airgun meet in Iran in 2016 for the same reason.
American chess player Nazi Paikidze also drew international attention when she refused to attend the Women's World Championship in Iran in 2016. In an Instagram post, she wrote that it was "unacceptable" to host the tournament in a place "where women do not have basic fundamental rights".
An international chess tournament hosted in Saudi Arabia last year also prompted controversy when a double world champion said that she would boycott the event. Ukrainian chess player Anna Muzychuk said that she did not want to wear an abaya, the full-length, loose-fitting robes women are required to wear in public in Saudi Arabia.