When US President Donald Trump meets his Russian counterpart Vladimir Putin for talks in the Finnish capital Helsinki on Monday, the two leaders will be written into the pages of a long history of talks between US and Soviet or Russian leaders, in and out of the Cold War.
As Mr Trump attempts to forge a productive relationship with a Russian leader who has confounded successive US presidents, we look back at the history of summits between leaders of the world's first modern superpowers.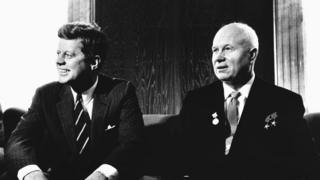 President Kennedy met the Soviet Premier Nikita Khrushchev in Vienna in 1961. The talks were dominated by the crisis in Berlin and control over the divided city. For Kennedy, it was a bruising, unexpectedly hostile encounter in which he felt outmatched by his Soviet counterpart.
"Worst thing in my life," the president told a New York Times reporter after the talks. "He savaged me." The Berlin Wall went up in the months after the talks and the following year the two superpowers locked horns over the Cuban missile crisis.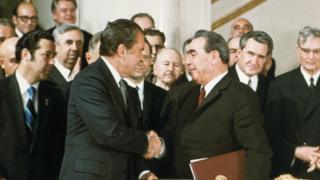 In May 1972, President Richard Nixon and Soviet leader Leonid Brezhnev met in Moscow for their first summit, which produced what appeared to be a good working relationship between the two leaders and a historic arms treaty setting limits to the rapidly expanding nuclear arsenals of both powers.
Nixon invited Brezhnev to Washington DC the following year, and the pair signed nuclear arms control treaties at three successive summits.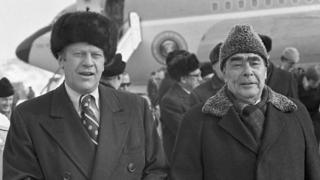 In November 1974, Nixon's successor Gerald Ford met Brezhnev for the first time in the Russian city of Vladivostok. Relations between the pair were warm despite the extreme cold. They discussed soccer and American football, which they had played as younger men, and joked together.
Ford had come wearing a wolfskin coat from Alaska. "I'm a sheep in wolf's clothing," he joked to reporters. "I told the first secretary. I'm going to get him one." Brezhnev then tried on the coat and modelled it for photographers.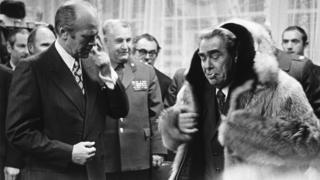 The pair met again the following year in Helsinki – the first of several US-Russian summits that would take place in the Finnish capital – for the Conference on Security and Co-operation in Europe.
Leaders from 35 nations signed the Helsinki accords – a declaration which called for respect for human rights and for the inviolability of European borders. It was among the most significant moments of the Cold War, but Ford faced criticism at home for what was seen by some as a concession to the Soviets and a legitimisation of Soviet oppression in Eastern Europe.
Jan Lodal, a member of Ford's policy team at the summit, later wrote in the Atlantic that Brezhnev secretly told Ford that the Soviets supported his re-election and would "do everything we can to make that happen". It would turn out to be a strange foreshadowing of the build up to another US presidential election, 41 years later.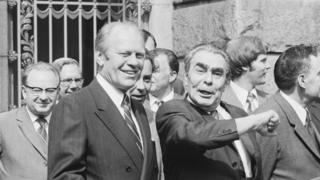 Towards the end of the Cold War, in December 1987, President Ronald Reagan and Soviet leader Mikhail Gorbachev met in Washington DC, where the two nations once again engaged on the issue of controlling nuclear arms stockpiles and testing.
They signed the INF Treaty – an accord banning intermediate-range nuclear missiles which led to the destruction of 2,692 missiles by 1991.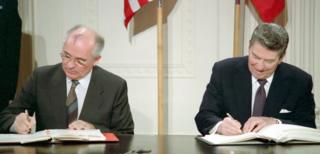 Then last year, shortly before the INF Treaty's 30-year anniversary, President Trump accused Russian leader Vladimir Putin of violating the pact by testing and deploying a ground-launched intermediate-range cruise missile, calling it a "big deal". Moscow responded by accusing the US of violating the treaty.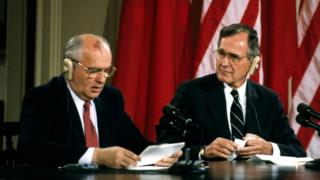 President George HW Bush met Mr Gorbachev seven times. By the time they met for their third summit, in Helsinki in September 1990, they had established a warm working relationship based on hours of discussions, often without advisers.
Mr Bush was hoping to shore up support from Mr Gorbachev in dealing with aggression by the Iraqi leader Saddam Hussein, who had weeks earlier invaded Kuwait.
Mr Gorbachev arrived at the summit with a gift for Mr Bush – a framed cartoon depicting the two leaders as boxers, both standing in a victory stance, having knocked out a prone figure labelled "Cold War" in Russian.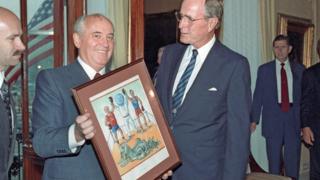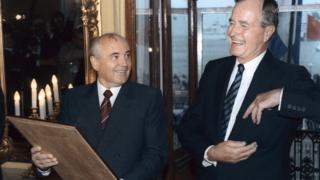 President Bill Clinton met Russian leader Boris Yeltsin in Helsinki in March 1997 for talks viewed as some of the most crucial between the US and Russia since the end of the Cold War. Relations had been strained by a eastward expansion of Nato to include former Soviet bloc nations.
Yeltsin made it clear at the summit that he objected to Nato enlargement, but agreed to negotiate a pact with the alliance. The pair also agreed to a sharp reduction in their respective nuclear arsenals.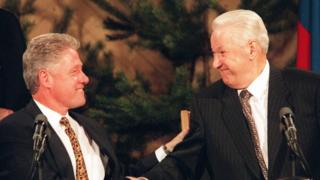 US-Russia relations steadily worsened under the leadership of Vladimir Putin, a former Russian intelligence official who became president in 2000. George W Bush, who became US president a year later, attempted to bring Mr Putin on side but the pair's relationship slowly soured over the eight years Mr Bush was in office.
"I think Putin is not a democrat anymore," he told the visiting prime minister of Slovenia in 2006. "He's a tsar. I think we've lost him."
When Barack Obama became US president in 2009, he tried a new strategy of going around Putin. The Russian leader had stepped aside to comply with Russia's two-term presidential limit, and installed Dmitri Medvedev in his place.
President Obama attempted to develop a relationship with Mr Medvedev, and in 2009 dispatched his Secretary of State Hillary Clinton to meet her Russian counterpart Sergei Lavrov with the goal of re-setting US-Russia relations. She even went armed with a toy button labelled "reset" in English and Russian, only for it to be revealed that the Russian word they'd used in fact meant "overload".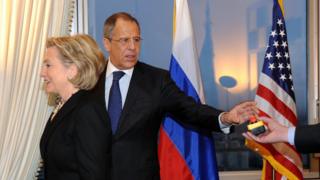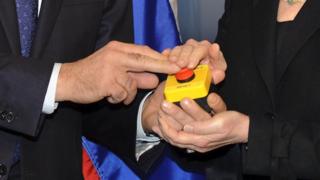 But the reset was about as effective as the toy button. Russia pointedly refused US demands for them to extradite the whistleblower Edward Snowden. Mr Obama cancelled a trip to Moscow and distanced himself from Mr Putin.
Then in 2014 Russia annexed Crimea, breaking for the first time the Helsinki Accord signed by Ford and Brezhnev in 1975 and heaping international opprobrium and sanctions on itself. President Obama criticised Mr Putin, but made it clear he had no intention of entering into any kind of conflict.
"This is not another cold war that we're entering into," he said. "Now is not the time for bluster … There are no easy answers, no military solution."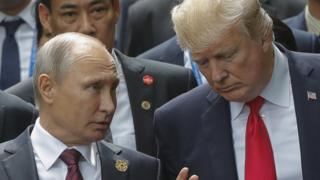 Now Donald Trump is president and the US is once again seeking a kind of reset. Mr Trump goes into Monday's summit with Mr Putin with US-Russia relations under a heavy raincloud at home. US intelligence agencies have unanimously concluded that Russia conducted a cyber operation to influence the outcome of the US presidential election in 2016, and a special counsel investigation led by a former director of the FBI is investigating whether Mr Trump's campaign team colluded in that effort.
Improbably, President Trump goes into the summit, on historic Helsinki turf, having just sharply criticised and alienated some of the US's closest Nato allies, and yet having praised and sought the approval of Mr Putin.
Ahead of the meeting on Twitter, President Trump appeared to suggest the US was to blame for poor relations. "Our relationship with Russia has NEVER been worse thanks to many years of U.S. foolishness and stupidity and now, the Rigged Witch Hunt!" he wrote.
The Russian Foreign Ministry's official Twitter account liked the tweet.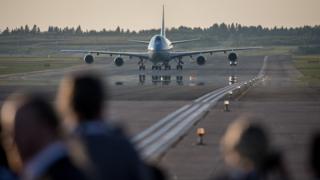 .