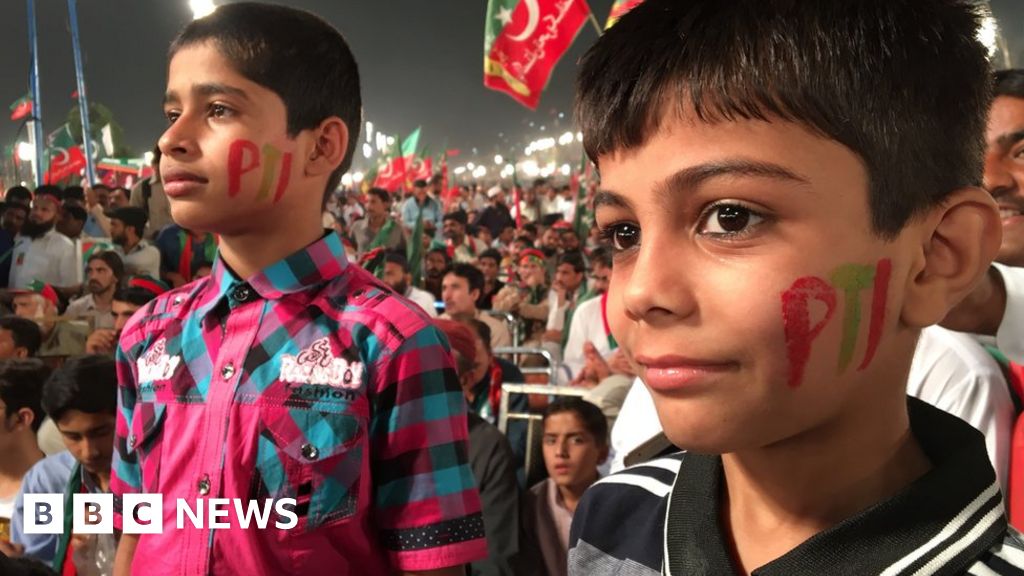 Leading opposition politician Imran Khan has promised to create a "new Pakistan" ahead of general elections this summer.
What are the former cricketer's prospects – and who are the "electables" he hopes will help him?
What's Imran Khan promising?
Mr Khan addressed a rally of tens of thousands of supporters in the eastern city of Lahore, where he launched his party's campaign.
No date for the vote has been announced but it is expected to take place in July or August.
Mr Khan told the crowd he would create a Pakistan where all citizens were held accountable irrespective of their backgrounds.
He also said he wanted to improve access to education and healthcare, as well as promote tax collection and reduce corruption.
What are his chances?
His PTI party currently has 32 parliamentary seats, compared with the 186 of the ruling PML-N party.
Recent opinion polls also suggest the PTI is less popular than the PML-N, although the margin has narrowed since the last election in 2013.
"Opinion polls can be extremely misleading," Mr Khan told the BBC in an interview.
How big an issue is corruption?
Mr Khan has made fighting corruption his party's central pitch.
"The way Pakistan is headed, the whole issue about corruption, the issue about governance… I believe that the election campaign will swing the big undecided vote towards the PTI," he told the BBC.
The former prime minister and head of the PML-N, Nawaz Sharif, is currently on trial in an anti-corruption court.
A verdict is expected in the coming weeks, which could see him sent to jail.
He was disqualified from office last year following an inquiry into his family's finances – which Imran Khan campaigned for.
However, Mr Sharif remains a popular figure and has held a number of large rallies since his disqualification.
What does Imran Khan say about the military?
Supporters of Mr Sharif claim Pakistan's military establishment secretly pushed for his removal as they disagreed over key issues such as the country's relationship with India. Both the Pakistani army and Imran Khan deny that.
Mr Khan alleged that the PML-N were themselves sponsored by the military in the 1990s.
He added: "The current military chief, Gen Bajwa, is probably the most pro-democratic man we have ever seen."
The military has directly ruled Pakistan for nearly half its existence, and it has exerted a strong influence throughout much of the rest of the country's lifespan.
Politics in the country are often seen through the lens of civil-military relations – but Mr Khan told the BBC he had "no concern" about the military's role in Pakistani society.
Where does Mr Khan stand on extremism?
Mr Khan has faced accusations of being soft on Islamist extremism, at one stage earning the nickname "Taliban Khan".
He strongly rejects the claims and says he has merely advocated peace talks with insurgent groups as a way of resolving conflict within Pakistan.
When asked by the BBC whether Pakistan would be more or less "liberal" were he to be elected prime minister, he dismissed the question.
"Pakistan's issue is nothing to do with liberalism or fundamentalism. Pakistan has an issue of governance," he said.
"We have 25 million children out of school, we have the highest child mortality rate in the world. This is the West looking upon Pakistan as a liberalism and fundamentalism issue.
"It is not an issue. Every human society has its extremists and its liberals."
On international affairs Mr Khan, like other Pakistani politicians, has denied US allegations that the country is providing "safe havens" for the Afghan Taliban and its allies.
At the Lahore rally, a senior politician from Mr Khan's party led a chant proclaiming, "anyone who is a friend of the US is a traitor".
Mr Khan told the BBC: "The US has had the worst Afghan policy. For 16 years they've been trying to use a military solution and they failed.
"Where are the safe havens? They should point them out – 70,000 Pakistanis have died fighting the US war."
So who are the 'electables'?
"Electables" are politicians with their own personal vote banks, who are not tied ideologically to a political party.
Analysts say it is not clear what the impact would be on levels of support for the PML-N, if Mr Sharif were convicted in his ongoing anti-corruption trial.
Some believe it could boost support for him as a "martyr". Others say it could lead to defections of so-called "electables" to Mr Khan's PTI.
"There are some electables who have a good track record," Mr Khan said. "Especially in rural areas you have to have someone who has a network to win the election." Mr Khan said he would not allow "electables" with tarnished political records to join the party.
Senior Pakistani journalist Iftikhar Ahmad, from the Daily Jang newspaper, said he believed there were around 60 such candidates in constituencies in Punjab alone who might switch allegiance to the PTI if they deemed it in their interest.
Where will the vote be decided?
The key battleground between Mr Khan and the PML-N will be the province of Punjab, which holds more than half of the 272 directly-elected seats in the Pakistani parliament.
Lahore, where Mr Khan launched his election campaign on Sunday, is the capital of Punjab.